News
Last Updated Wednesday 5th October, 2022
The awards are an opportunity for the international community, academic institutions, local community and businesses to honour the achievements of international students during their time in Adelaide. The award program, now in its eleventh year, is highly regarded and a valuable addition to the winning students' resumes.
---
Academic Excellence
Postgraduate - Research
From improving workplace wellbeing through augmented technology and environmental graphic design to finding new antibiotics for the treatment of multidrug-resistant (MDR) infections, the winners in the postgraduate research category are breaking new ground and uncovering new ways to improve our health and wellbeing.
Winner: Aprille Chua Jia Qi from Singapore
Studying: Doctor of Philosophy in Design Communication at the University of South Australia
With a background in interior architecture and a desire to improve workplaces, Aprille's research explores how implementing environmental graphic design and augmented technology interventions can improve employee wellbeing.
Preliminary findings show these interventions can create effective therapeutic spaces and enhance employee experiences. Her research can be applied to other sectors such as education, public art installations and even the space industry to support the mental health and wellbeing of astronauts.
Improving peoples' wellbeing is always top of mind for Aprille who created an online platform to support fellow higher degree by research (HDR) students, and organises annual HDR wellbeing workshops. She is an active volunteer including in mentor and ambassador roles and was selected for the PhD Thinkers in Residence program, collaborating on how to support the wellbeing of gig workers.
Aprille says she hopes to build a culture of care through her design interventions. With positive feedback on her prototype showcase, it looks like Aprille's research is destined to help improve the mental health and wellbeing of workers across many industries.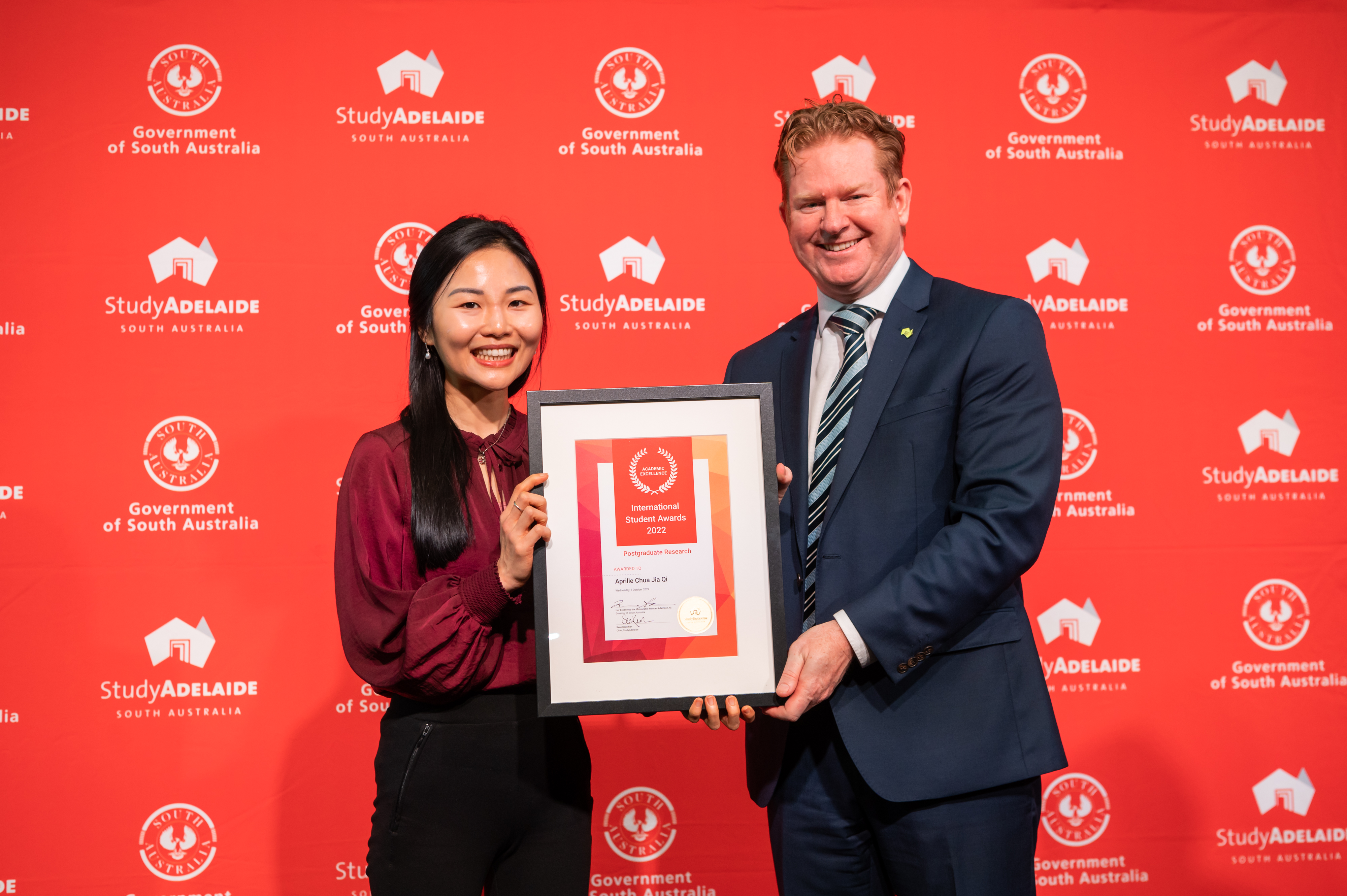 Highly Commended: Hang Nguyen from Vietnam
Studying: Doctor of Philosophy in Veterinary Sciences at the University of Adelaide
Having previously studied veterinary medicine in Vietnam and biotechnology at Flinders University, Hang came to her PhD studies as a young scientist with extensive experience in microbiology, veterinary science and drug discovery.
Hang's research focuses on finding new antimicrobials for the treatment of multidrug-resistant (MDR) bacterial infections which pose a serious public health problem worldwide. Her PhD work is impressive with nine manuscripts published or being prepared for submission to leading microbiology and health journals (five as first author). She has also presented her work at three conferences.
One outstanding outcome of Hang's research is Australian research partner, Neoculi Pty Ltd, applying for multiple patents based on the unique antibiotics discovered through her work. Hang's findings have made important breakthroughs and attracted significant funding to continue the research.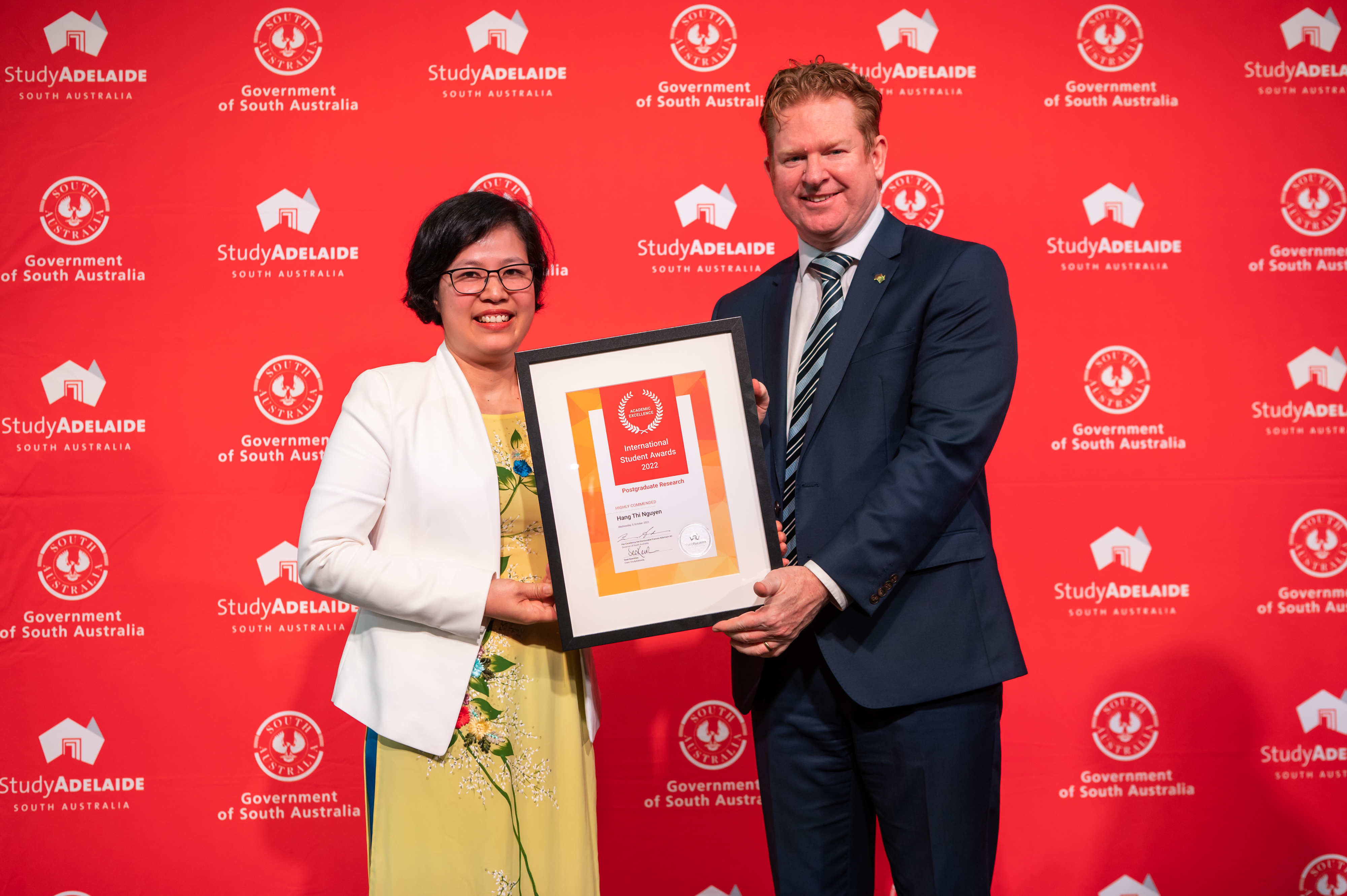 ---
Postgraduate - Coursework
From taking a new study path to bring better healthcare to poor and underprivileged communities to developing a marketing career aiming to help businesses take on global expansions, the winners in the 2022 postgraduate coursework category have approached their studies with a steely determination and drive to succeed.
Winner: Chidozie Elvis Chidi-Ezeama from Nigeria
Studying: Master of Engineering (Biomedical) at Flinders University
As a practising doctor back in Nigeria, Elvis was frustrated by the difficulty to access medical devices when providing healthcare to the poor and underprivileged. Wanting to fix this problem, he left his medical career to commence biomedical engineering studies and learn how to make affordable medical devices that help people regardless of their socio-economic status.
With his goal never far from his mind, Elvis focused on his studies, which were challenging for someone who had not studied engineering before. His dedication paid off when he received a Vice Chancellor's Letter of Recommendation at the end of his first year. An achievement which inspired him to keep working hard, despite the challenge of being away from his family during the COVID-19 pandemic.
Elvis says his studies have given him the knowledge he needs, and he's received significant feedback for the device he designed for his study project. Elvis plans to use his newfound biomedical engineering skills to benefit people needing healthcare back home in Nigeria, in other developing countries, and across the entire world.
Elvis is also the winner of the 2022 International Student of the Year Award. Click the link to learn more about how Elvis' study journey and plans to make a global impact with his ideas for providing low-cost medical devices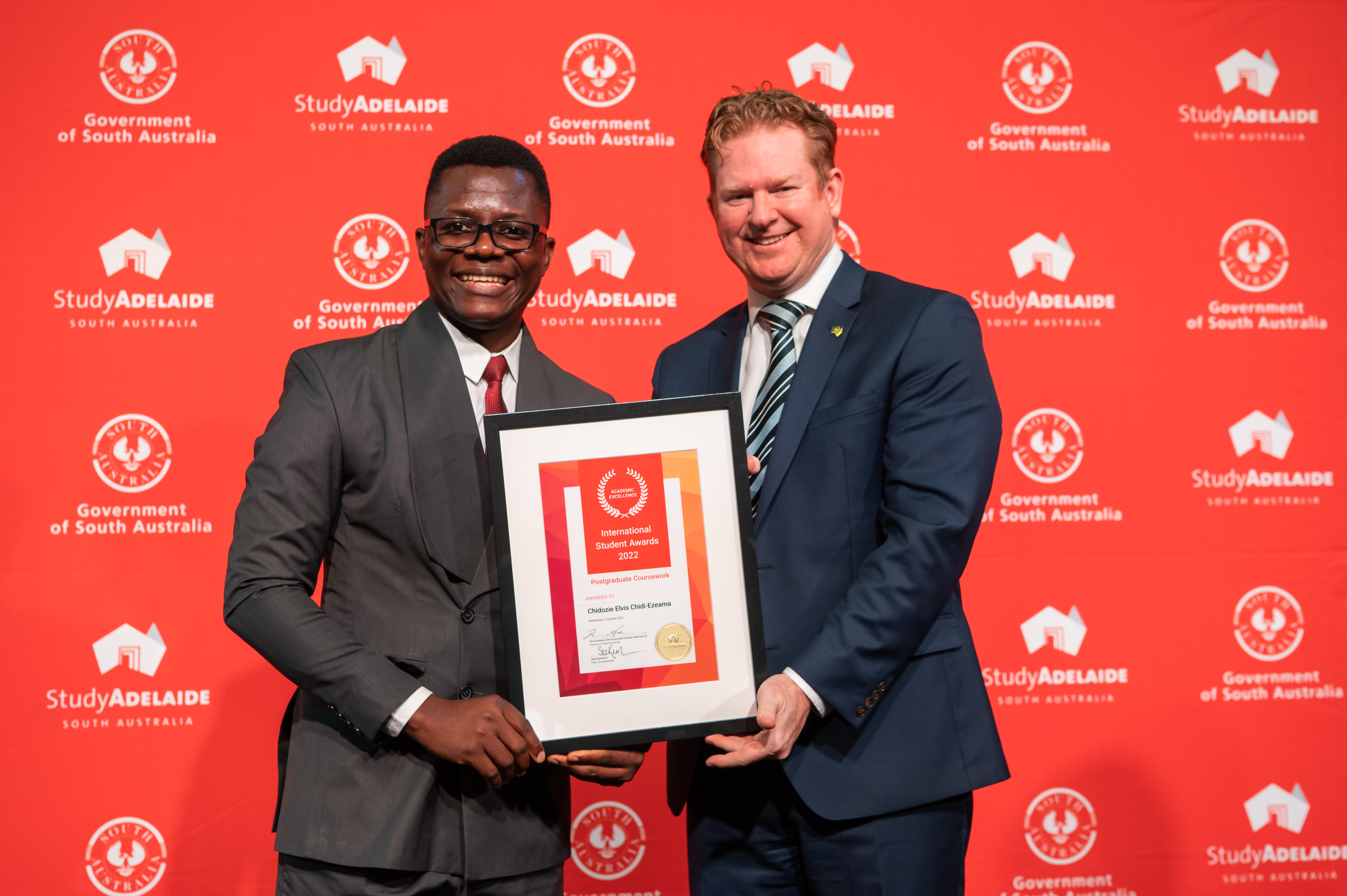 Highly Commended: Maria Camila Gonzalez Davila from Colombia
Studying: International Master of Business Administration (Marketing) at the University of South Australia
Maria first came to study at the University of South Australia as part of a student exchange program for high achievers. After completing her Colombian bachelor's degree during her exchange and receiving an International Merit Scholarship, Maria decided to stay on at the University of South Australia.
Choosing a postgraduate degree in international business, Maria aims to build global marketing skills, grow creatively and work towards achieving her personal and professional goals. She says she's always wanted to collaborate with companies and help them develop strategies and identify market opportunities for global expansion.
Having worked with an Indigenous-owned company, Maria has seen how business can improve wellbeing and provide life-changing employment opportunities for First Nations people. In the future, she hopes to build a career that will continue to have a positive impact on local communities through economic development.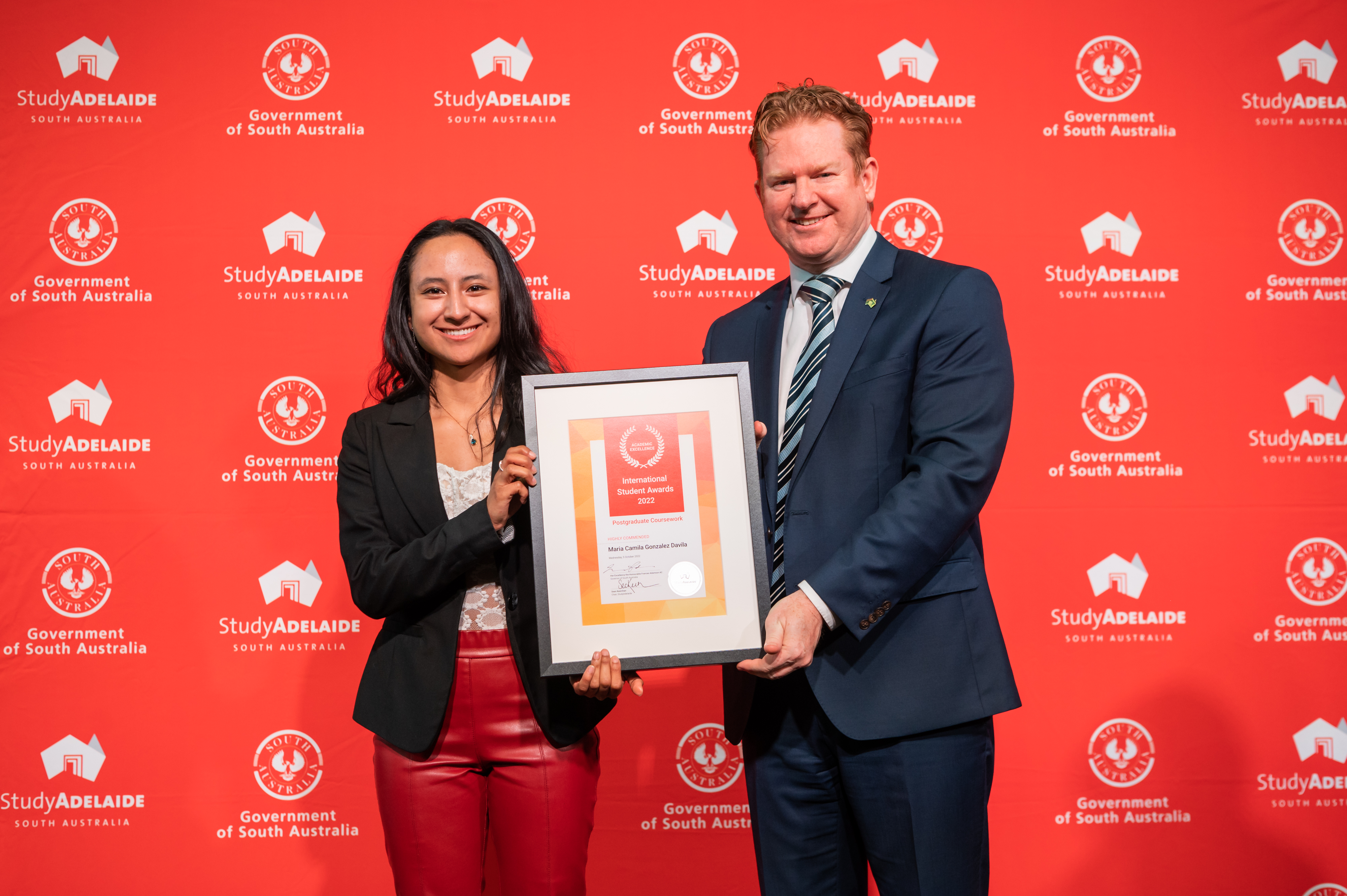 Undergraduate
The winners in this year's undergraduate category have each chosen study paths that lead to professions of service. They've worked hard to achieve outstanding academic results with drive and determination to build careers that help the sick and vulnerable people of this world.
Winner: Reynal Adrien Jayatilake Tennakoon Mudiyanselage from Sri Lanka
Studying: Bachelor of Clinical Sciences, Doctor of Medicine at Flinders University
As a child watching his grandmother battle cancer, Reynal knew from an early age he wanted to use his intelligence and empathy to help people facing debilitating medical conditions. And with the onset of the COVID-19 pandemic, his sense of responsibility to be in the clinical frontlines grew.
Starting his Flinders University medical studies offshore, Reynal worked hard to improve his writing skills and achieve academic success, despite the hardships of studying online during difficult times in his country.
On arriving in Adelaide in 2022, Reynal, who believes education isn't confined to only knowledge from books, has immersed himself in campus life. He's joined many student clubs and associations, including taking up table tennis and representing his university at the South Australian Open Challenge.
With a GPA of 7.0, Reynal is excelling in his studies as an aspiring surgeon. He says Australia's feedback-based teaching and skills-based learning approach is empowering him to explore his academic and non-academic interests to their fullest potential.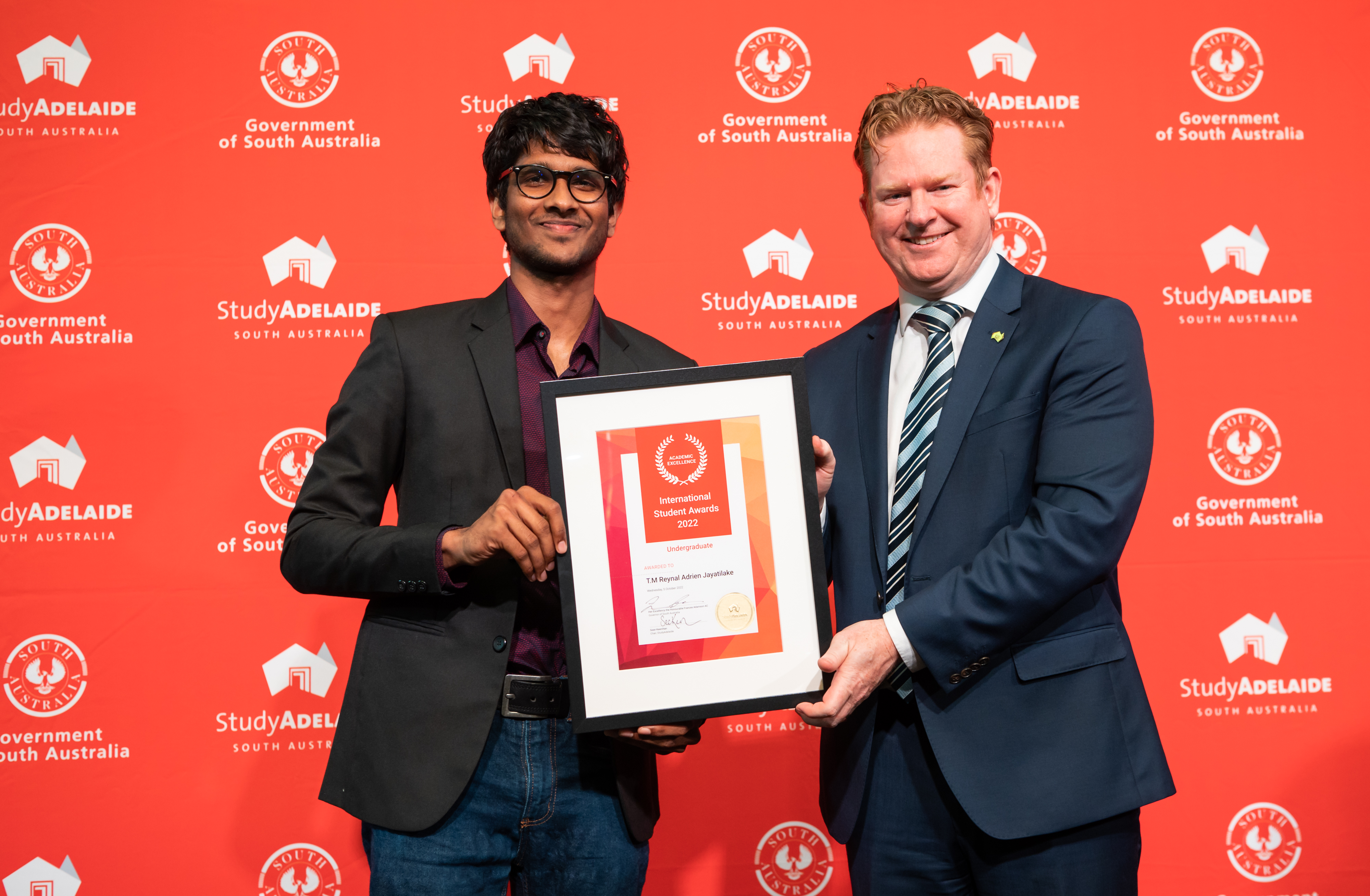 Highly Commended: Rachel Tan from Malaysia
Studying: Bachelor of Laws with Bachelor of Arts at the University of Adelaide
After being offered an international undergraduate scholarship for her excellent results at Eynesbury College, Rachel has continued to excel at university, receiving several prestigious invitations for her outstanding academic achievements.
As a law student, Rachel wants to help underprivileged and marginalised communities overcome issues of inadequate representation, unfair trials and other legal injustices. She's undertaken research, internships and volunteer work focused on improving accessibility to legal systems, especially for First Nations people.
Rachel also involves herself in university life as a mentor for first-year law students and represented her university at an intensive course held at the Australian National University in Canberra.
Rachel has lofty ambitions, wanting to become a practicing lawyer, a member of parliament, a lecturer at a university and the first Chinese female judge in Australia. And with her commitment so far, and determination to succeed, we have no doubt she will achieve them.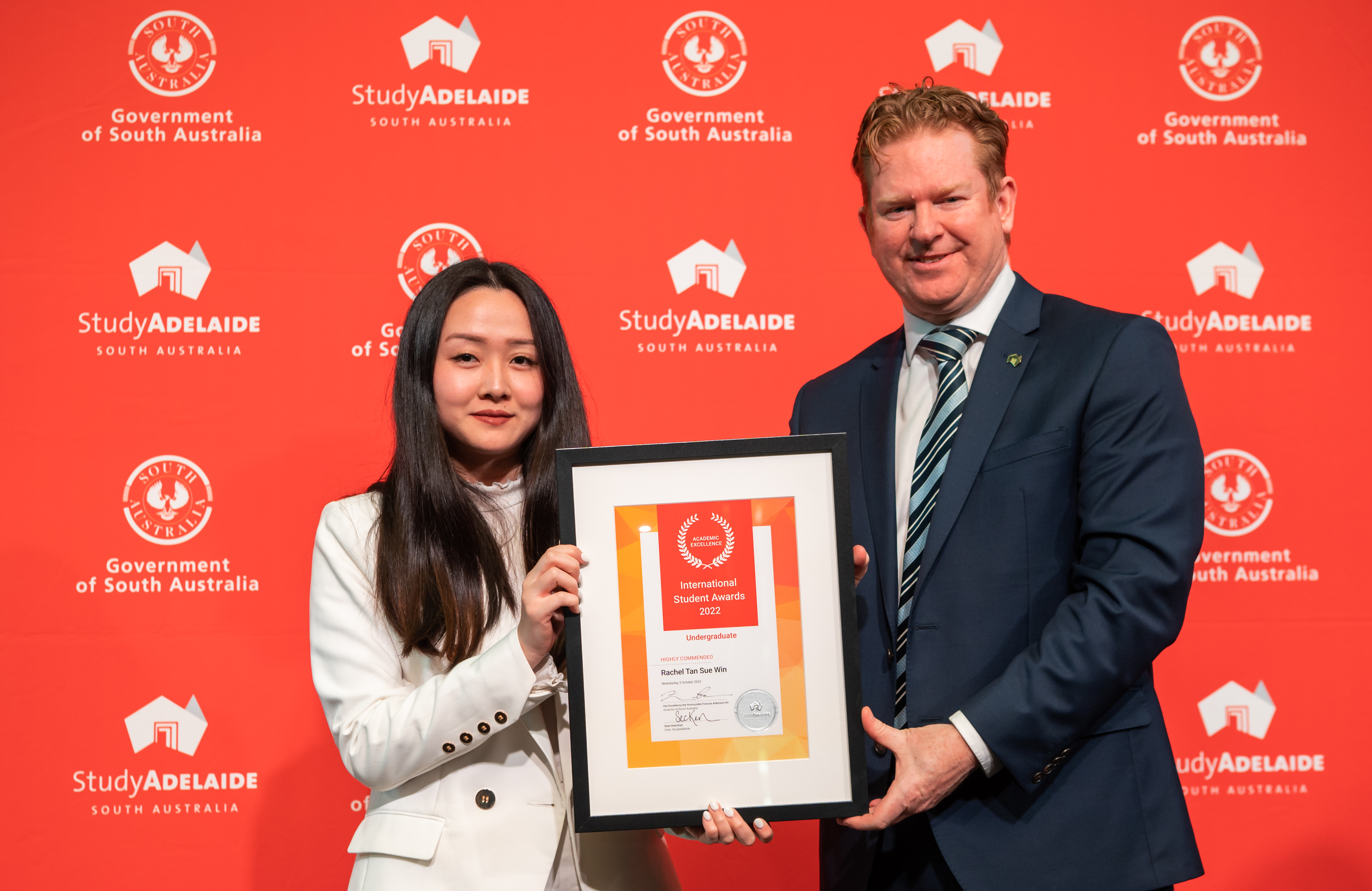 Highly Commended: Kanishka Chaudhary from India
Studying: Bachelor of Nursing at the University of Adelaide
After struggling with her studies in year 12 back home in India due to complex medical conditions, Kanishka worked hard to turn her grades around once arriving in Adelaide. Kanishka has applied herself to her studies and last semester she achieved a perfect score 7.0 GPA giving her a 6.5 overall GPA.
Kanishka also completed 800 hours of clinical placements serving in the COVID-19 surge force at the Royal Adelaide Hospital. Kanishka's impressive academic achievements are testament to her drive to build a strong foundation for her nursing career, and led to offers for her to work with SA Health during her studies.
Kanishka is proud of choosing her noble profession and says nurses hold a great responsibility to care for the mental and physical wellbeing of their patients. With a scarcity of skilled nurses back home in India, Kanishka says her degree will help her become an asset for both Australia and India.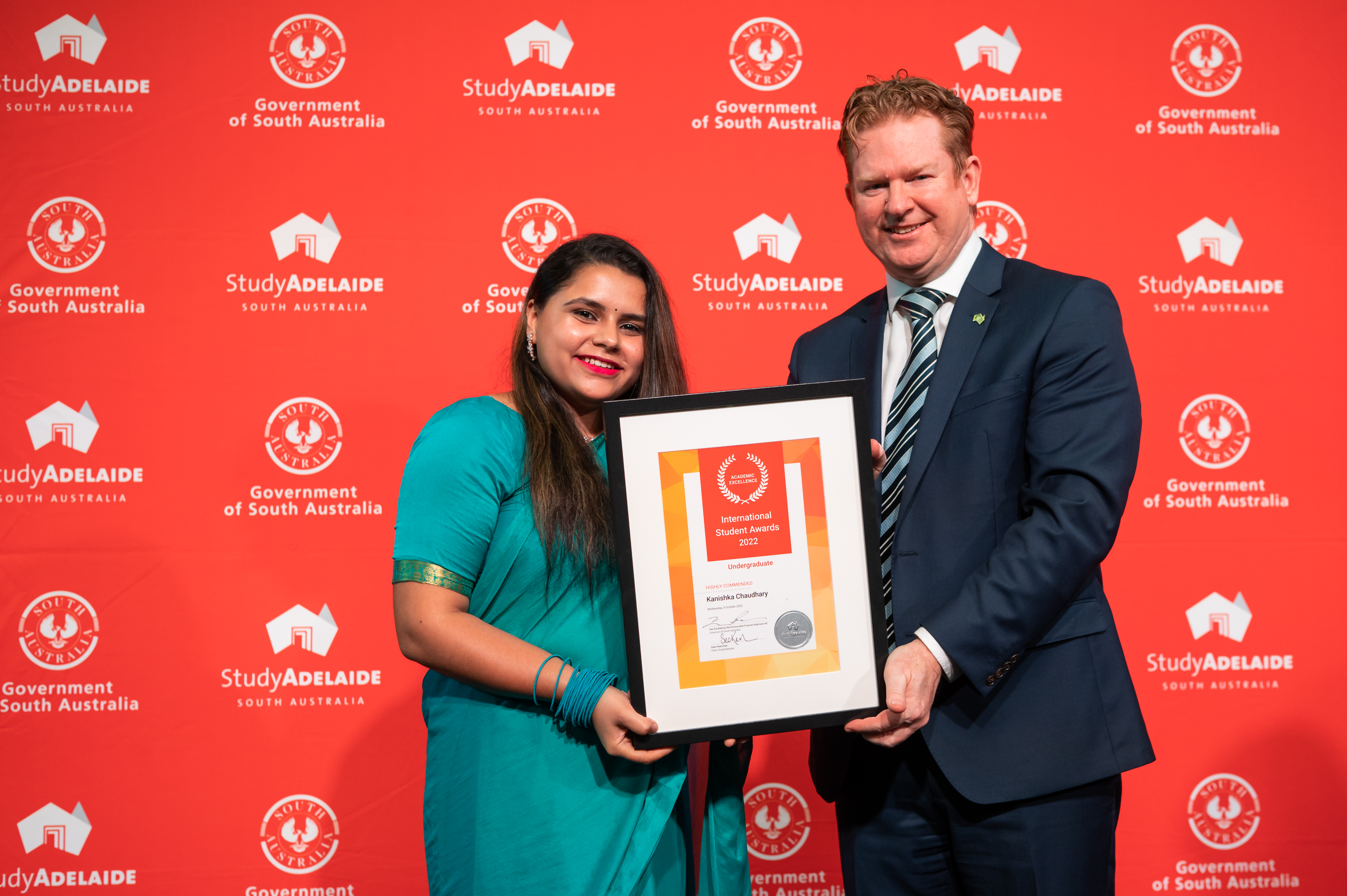 ---
Vocational Education and Training
From excelling in assignments and a passion for landscaping design to using real-world marketing skills to assist local businesses and charities, the winners in the vocational education and training (VET) category have big plans for the practical skills and knowledge they've developed during their time studying in Adelaide.
Winner: Beatriz Vergara from Chile
Studying: Diploma of Landscape Design at TAFE SA
Choosing to study landscape design to complement her skills as an architect and interior designer, Beatriz says her diploma will make her a multifaceted professional ready for a changing workforce. With a passion for sustainability, she believes designing landscapes that respect and understand our environment is vital to the future of our planet.
Beatriz receives consistent praise for the depth and quality of her assignments, including from one teacher who said her submission was, 'One of the best I have had in all the years I have taught this subject.' She is already putting her landscaping knowledge into practice working as a landscape assistant and hopes to broaden her knowledge by studying horticulture next.
Outside of her studies, Beatriz involves herself in many community and cultural activities including starting a choir and creating a support network for students who lost their jobs during the COVID-19 lockdowns.
Highly Commended: Morgan Hay from Canada
Studying: Diploma of Marketing and Communication at TAFE SA
With a GPA of 3.8 (out of 4), Morgan's academic achievement is testament to her ability to succeed even when faced with study delays and challenges. Having learnt many practical skills through her studies, Morgan uses her assignments as opportunities to apply her knowledge to real-world situations.
Morgan's volunteer work with various charities includes raising money for children's charities like Backpack for Kids SA, and she's making plans to volunteer her time and marketing skills through an internship with Treasure Boxes.
Morgan hopes to apply her knowledge and creative ideas to developing a marketing career focused on public relations and event management. And she's already putting her skills to use as a freelance designer creating social media content and marketing assets for local businesses.
---
Schools
Despite facing individual COVID-19 hardships, the winners in the 2022 schools category have worked hard to achieve exceptional academic results. From participating in school performances, being student representatives to tutoring and guiding academic passions, they are also giving back to their school communities using their skills and talents to help others. With bright futures ahead, we look forward to seeing these students continue to soar in their future studies.
Winner: Asira Suetrong from Thailand
Studying: International Baccalaureate (Year 11) at Glenunga International High School
Asira's academic performance is impeccable. As the valedictorian of her primary school, Asira is maintaining consistent A-level grades in high school and has received the Principal's Award for Outstanding Achievement every term of her high school years.
Asira also shows great commitment to giving back as a leader by being part of representative committees in both primary and high school and being a 'buddy' to help new international students feel welcome. With a love for music and science, Asira sings with the school's jazz ensemble, takes part in her school's musicals, and as an entrant in the Oliphant Science Awards, has won first prize in the multimedia category every year.
Though Asira has had to miss family occasions back home, her drive to succeed and passion for participating has seen her achieve fabulous results as a well-rounded student. Asira credits her success to the many opportunities her school and peers have given her, and she hopes to pursue university studies in nursing or medicine.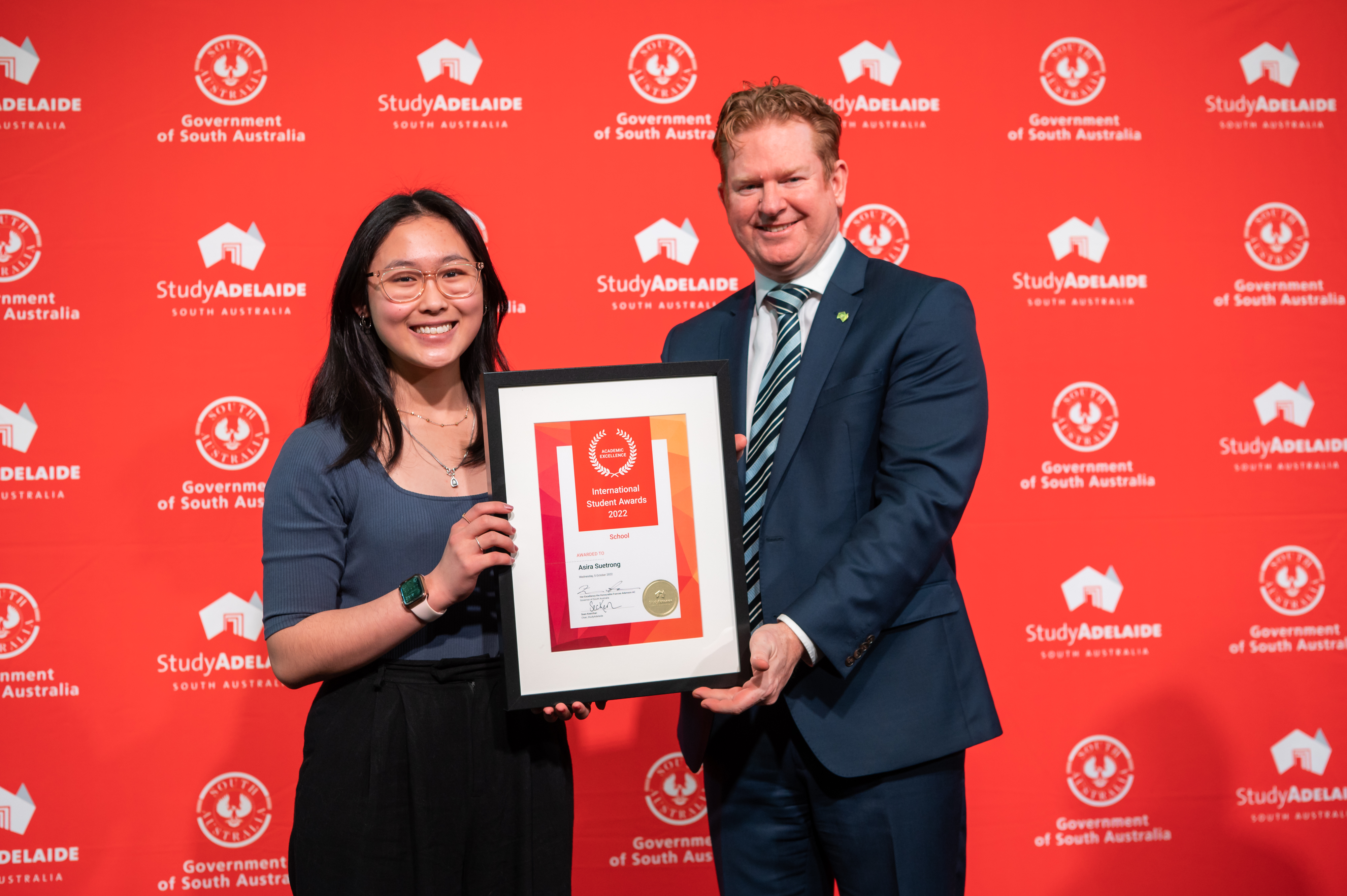 Highly Commended: Charlene Kwok from Hong Kong SAR
Studying: South Australian Certificate of Education (SACE) at Glenunga International High School
With several ups and downs in her early high school years, Charlene says the support of her parents and teachers helped her become more committed to her studies again. Since then, she's worked incredibly hard to achieve strong academic results.
Coming to Glenunga International High School for her senior years, Charlene says being surrounded by hard-working learners has inspired her to study everyday and strive for her personal best. As a leader, Charlene helps to promote South Australia to other international students and participates as a student representative where she helps champion issues affecting young people.
Having overcome the difficulties of being unable to visit her family for three years, , Charlene is now focused on finishing her high school studies. She says she hopes to study either veterinary science or physiotherapy at university.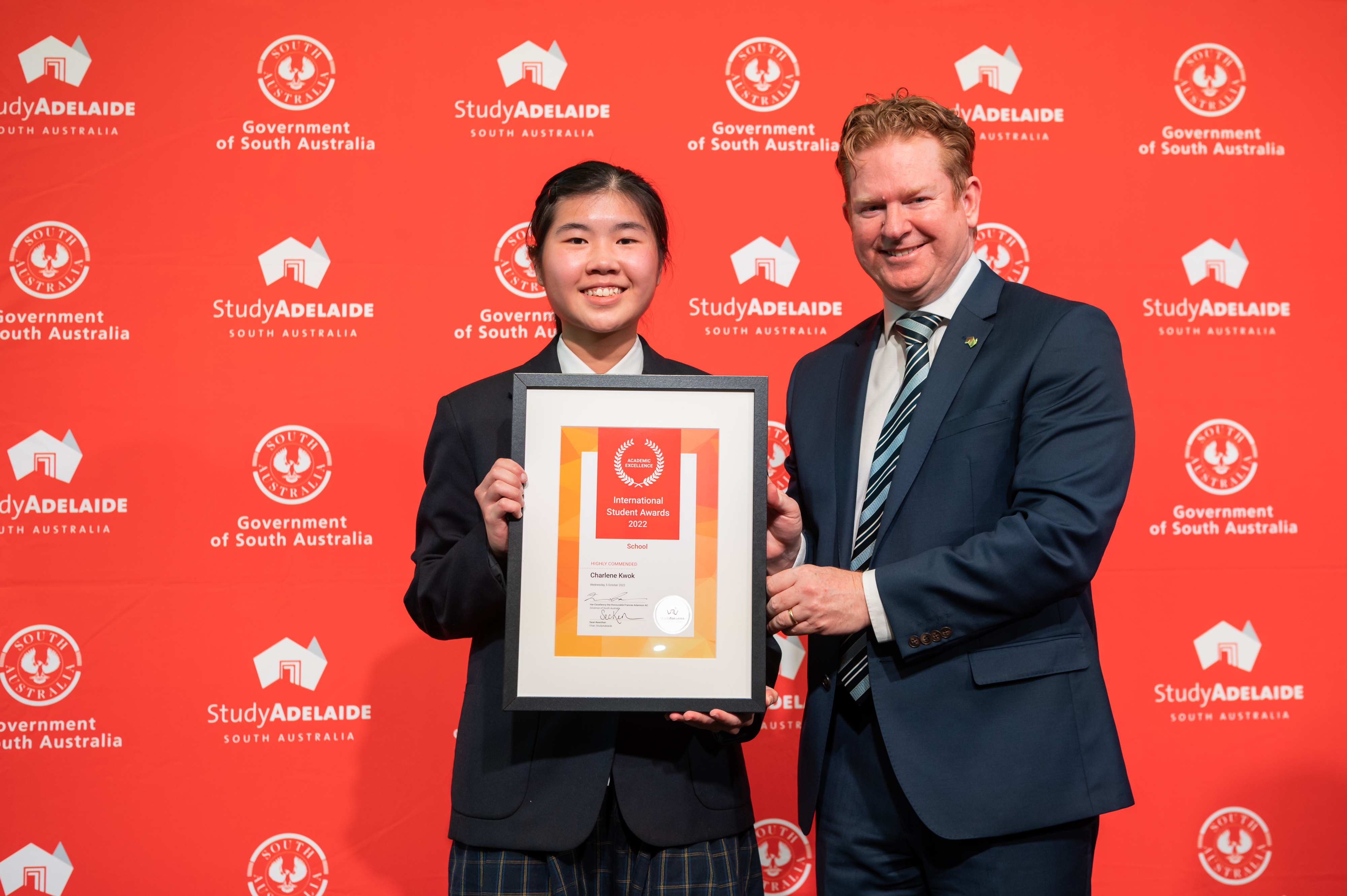 Highly Commended: Jiapei (Daniel) Liu from China
Studying: South Australian Certificate of Education (SACE) at Immanuel College
When Daniel arrived in Adelaide to join Immanuel College in Term 3, 2019, he was looking forward to a study abroad experience. But, with the onset of the COVID-19 pandemic, Daniel had to return home, barely six months after he'd arrived, and continue his studies online as an offshore student for the next two years.
Despite the difficulties of studying the Australian curriculum from China in pandemic lockdown conditions, Daniel achieved impressive academic results, consistently receiving A or A+ marks and winning many academic awards.
Grateful to have come back to Adelaide in 2022 for Year 12, Daniel has thrown himself enthusiastically into college life. He's joined the school's badminton program and volunteers as a maths tutor and class assistant to help other students.
Daniel is working hard to achieve the ATAR he needs to study chemistry at university, and one day homes to complete a PhD.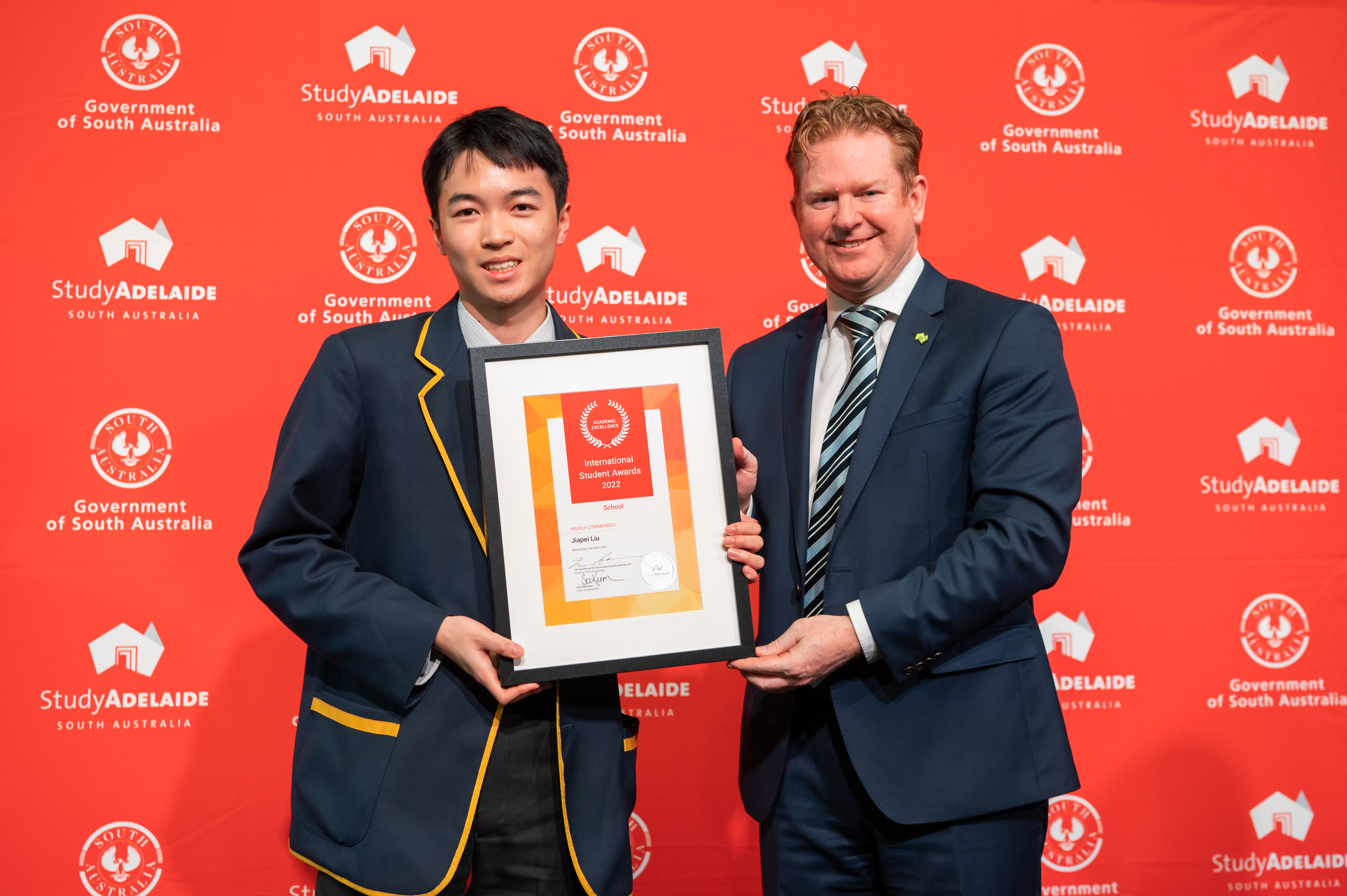 ---
Pathways
Our 2022 pathways award winner shows great discipline and dedication to her studies and working towards achieving inspiring career goals. Rather than shying away from the unfamiliar independent style of learning she found in Australia, Binu saw it as a strength and worked hard to achieve impressive academic results. She has also embraced student life, made new friends and taken part in many events within her college and church communities.
Winner: Binu Rajasuriya from Sri Lanka
Studying: Foundation Studies Program at the University of Adelaide College
Taking a self-described 'casual attitude' to her GSCE studies back home in Sri Lanka, Binu decided to put more effort into her work when she came to study in Adelaide.
While she was initially worried about adapting to Australia's self-directed style of study, Binu found the easy-going relationship between students and teachers made it easier to ask for help. She also sees taking responsibility for managing her own learning as a great strength which allows her to flourish as an independent student.
With a love of studying people and history, Binu is working toward studying anthropology at university and hopes to become a lecturer one day. With a first semester grade average of 93%, Binu's discipline and dedication to her studies has her well on her way to realising her university dreams.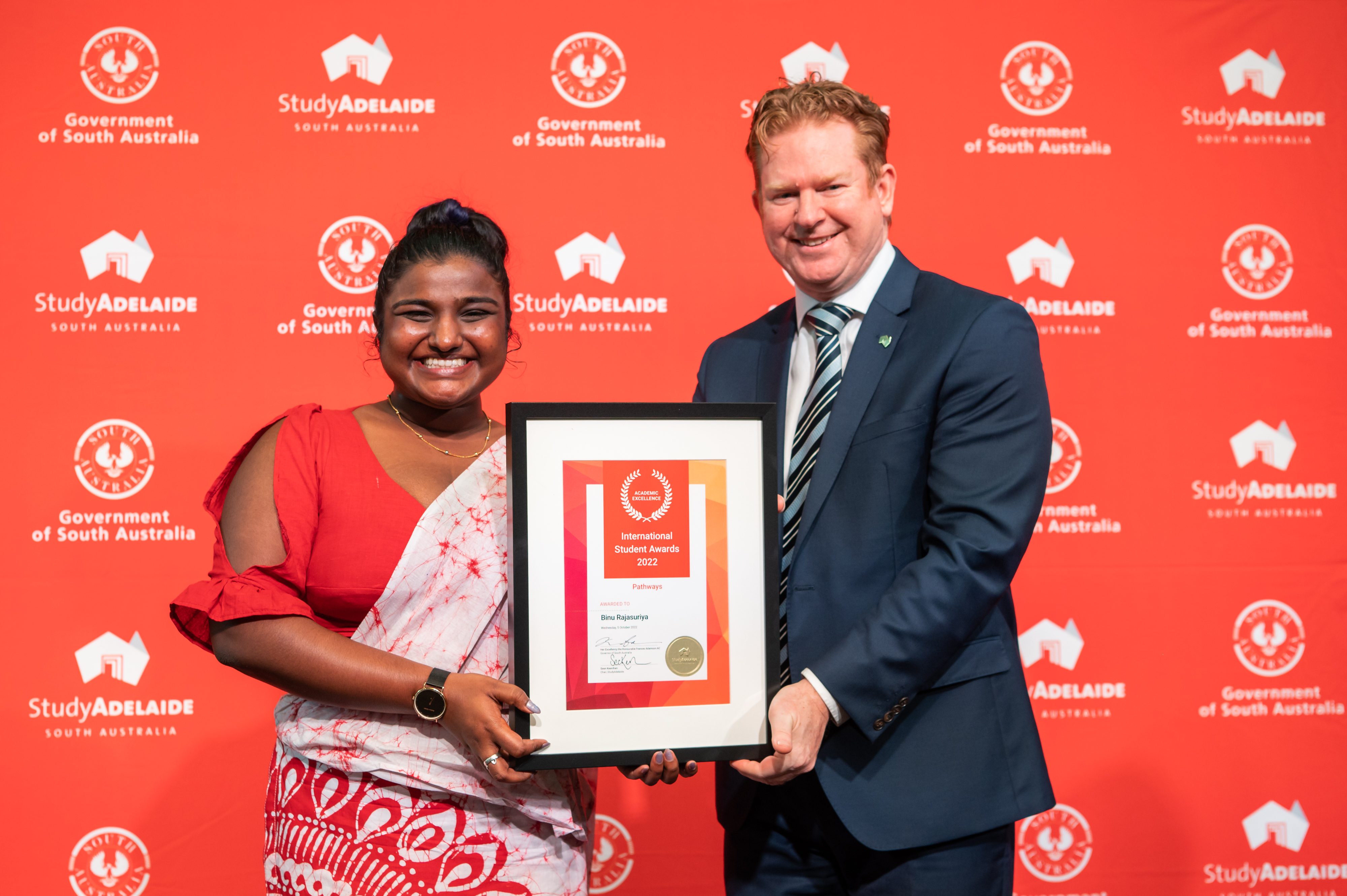 ---
Community Engagement
The winners of the 2022 community engagement category are using the skills and knowledge they've gained from their areas of study to help vulnerable people across South Australia. With a passion for championing human rights and dignity, these students are generously giving their time and expertise to help those in greatest need of support.
Winner: Rachel Tan from Malaysia
Studying: Bachelor of Laws with Bachelor of Arts at the University of Adelaide
Rachel's extensive volunteering experience is testament to her desire to care for others and use her legal skills to help ease the workload of organisations working in the community. From administrative support in community legal centres to leading youth ministry work at her church to conservation projects and more, the impacts of Rachel's volunteering are wide-reaching.
One of Rachel's proudest volunteering achievements is her work to edit a handbook for the Aboriginal Legal Rights Movement. The handbook aims to reduce instances of human rights violations such as unfair trials, wrongful convictions and abuse in prisons and Rachel is proud her contribution to this project will help First Nations people in Australia.
Rachel says it's important we don't take our privileges for granted and believes we should, 'Do our best to genuinely live for the betterment of others.' The many contributions Rachel has made to the South Australian community are an inspiring embodiment of this philosophy.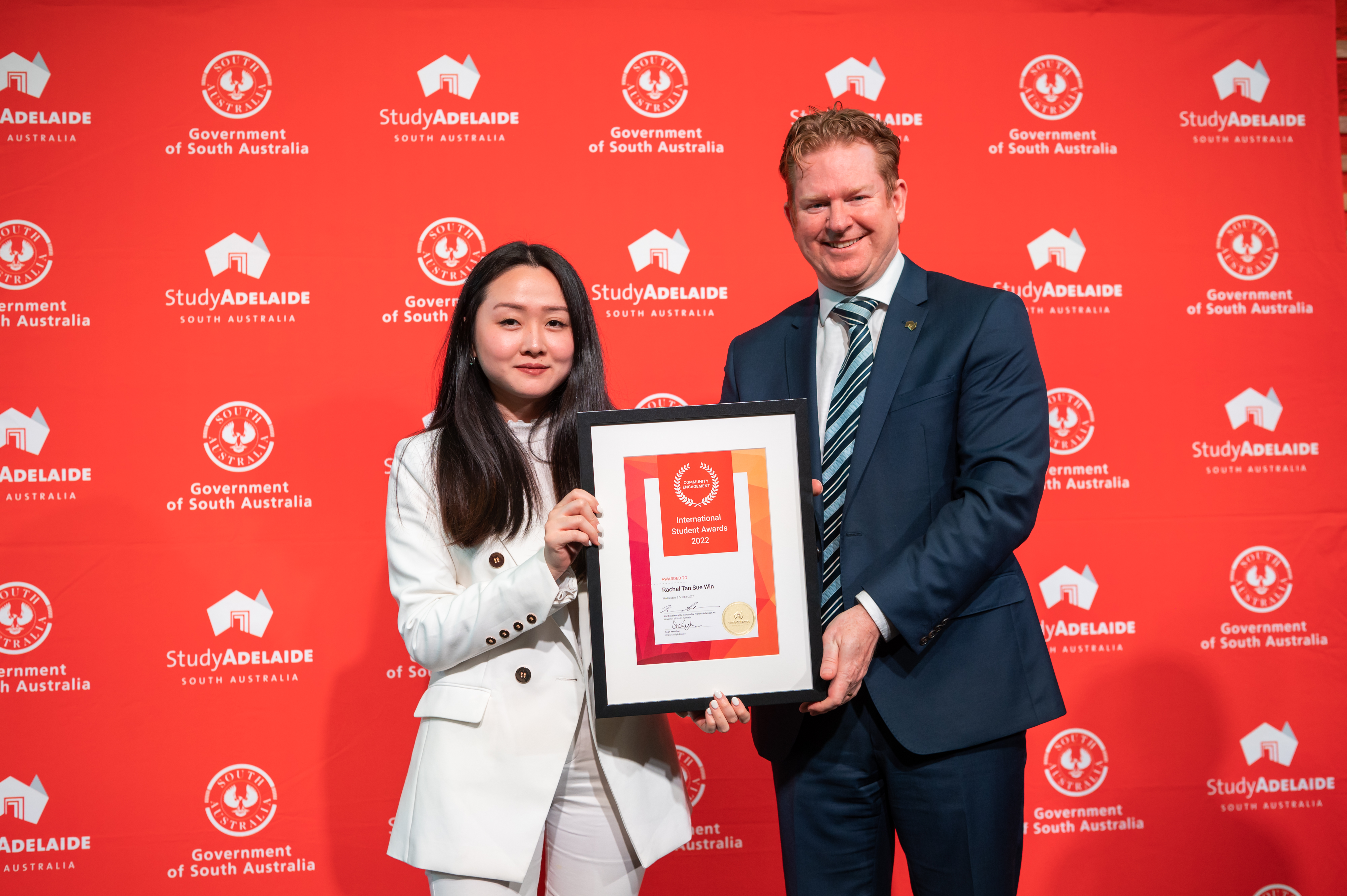 Highly Commended: : Thi Minh Hoang from Vietnam
Studying: Master of Social Work (Graduate Entry) at Flinders University
As a person with a disability and a student of social work, Thi is aware of the structural barriers that exist for vulnerable people, especially those living with disabilities and people facing homelessness. That's why Thi has dedicated so much of her limited spare time to volunteering with organisations with a mission to help.
Thi has volunteered to organise social activities for people with disabilities, help organise inclusive holidays, support staff working in homelessness crisis care and given considerable time and skills for many events and activities at her university.
Thi says her volunteer work is underpinned by the social work values of respecting people, professionalism and social justice. And says her volunteering has helped people challenge their abilities, gain new skills and have fun through connections and cultural exchange.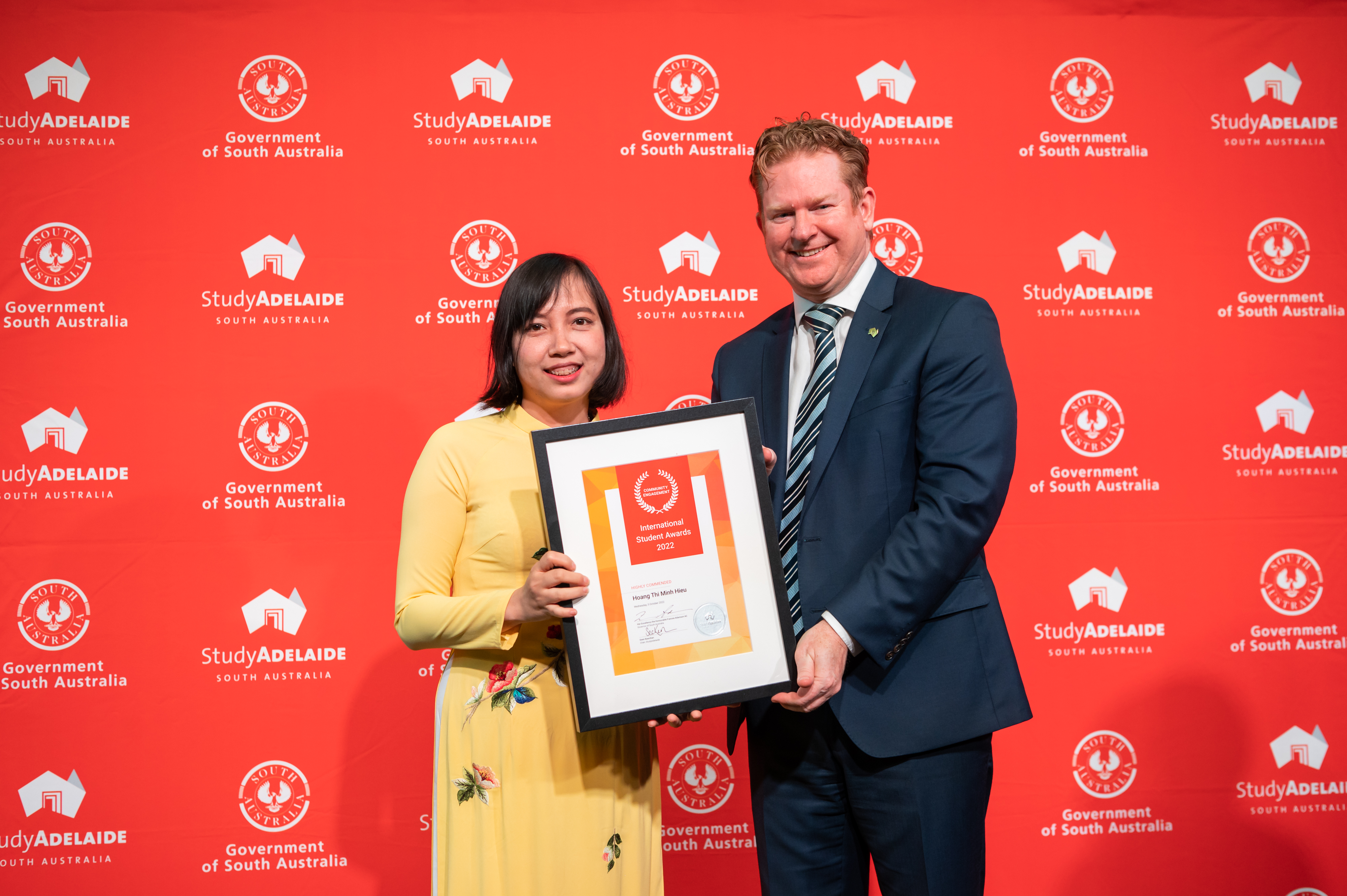 ---
Peer Support
International students know better than most how building community and getting support can play a vital role in their academic success and wellbeing during their studies. And this year's winners of the peer support category have shown great selflessness and compassion by dedicating their time to help enhance the study-abroad experience for their fellow students.
Winner: Xusheng Li from China
Studying: Master of International Management at the University of Adelaide
During his time studying in Adelaide, Xusheng has generously contributed his time and energy to help hundreds of international students adapt to their new environment quickly and easily. He attends weekly cross-cultural events to help international students improve their English and familiarise themselves with the university, and also helps Chinese language students better understand Chinese culture so they can excel in their studies.
Xusheng has contributed to the organisation and promotion of several events for students including career expos, graduate awards, wellbeing activities and a public speaking club. And as an academic integrity ambassador, he helps students understand and apply academic integrity to their studies.
Xusheng says his volunteer work helps him improve his communication skills and makes him more comfortable starting conversations and building relationships with others. While it isn't easy balancing his studies with this work, Xusheng has become good at using spare 'slivers of time' efficiently and enjoys the teamwork aspect of volunteering.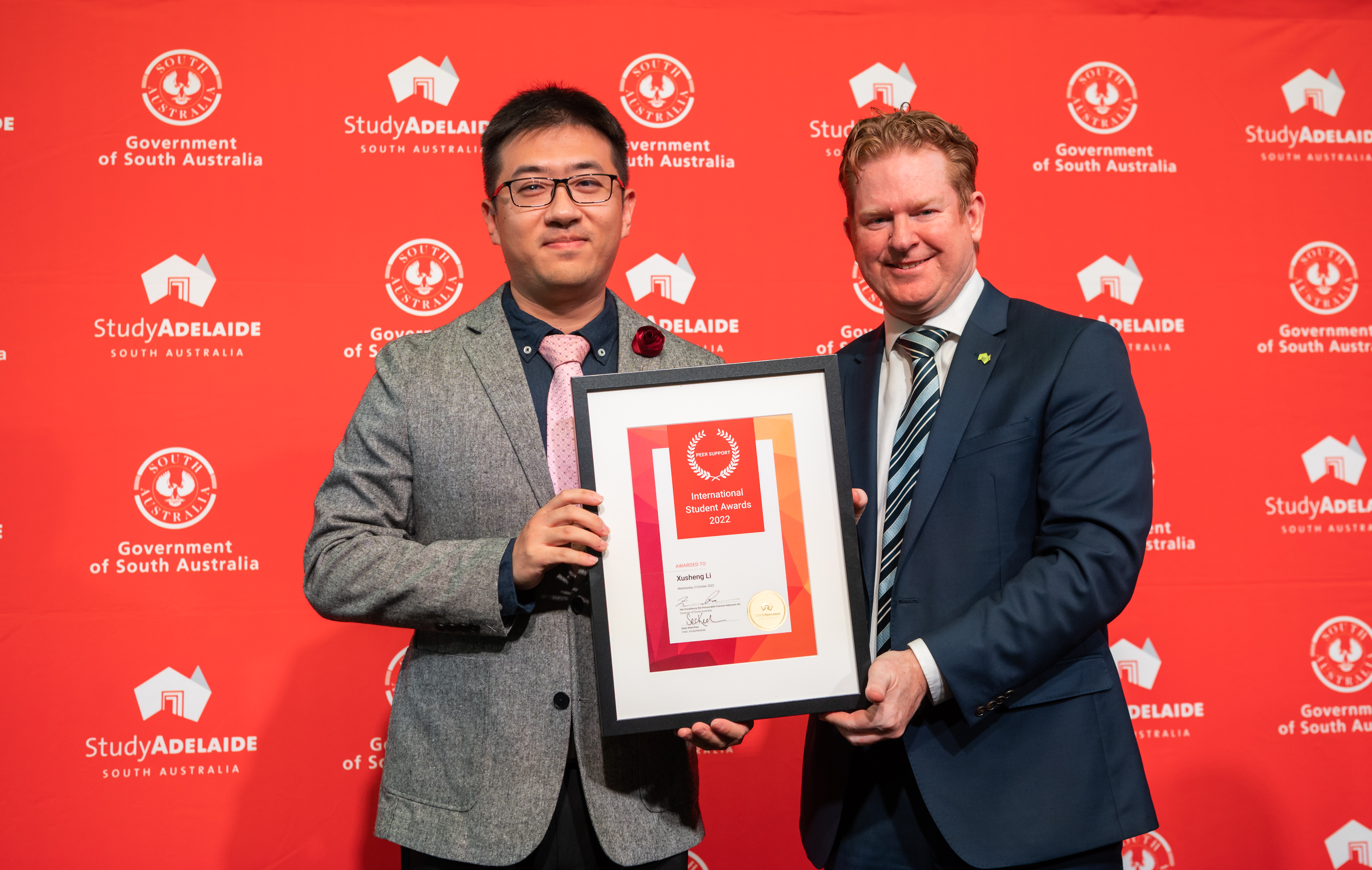 Highly Commended: Janya Cariappa Coluvanda from India
Studying: Bachelor of Social Science (Human Services), Bachelor of Psychology at the University of South Australia
Janya's involvement in peer support activities sees her helping international students from the beginning of their journey to study in Adelaide. Starting with one-one-one support for students looking to gain admission to the University of South Australia, Janya also welcomes students at the airport as a StudyAdelaide ambassador. As a residential adviser at one of Adelaide's student living facilities, she helps newly arrived students settle into their accommodation.
Once students have arrived, Janya provides more support as a volunteer for several orientation and mentoring events and activities. One of Janya's proudest contributions has been her involvement with the student club, ChatBox which she started with her peers. The club was formed to help offshore students connect with each other during the pandemic border closures.
Janya knows how overwhelming it can be to settle into a new country and a new city, and she is happy to help students make a smooth transition to their life as a student in Adelaide.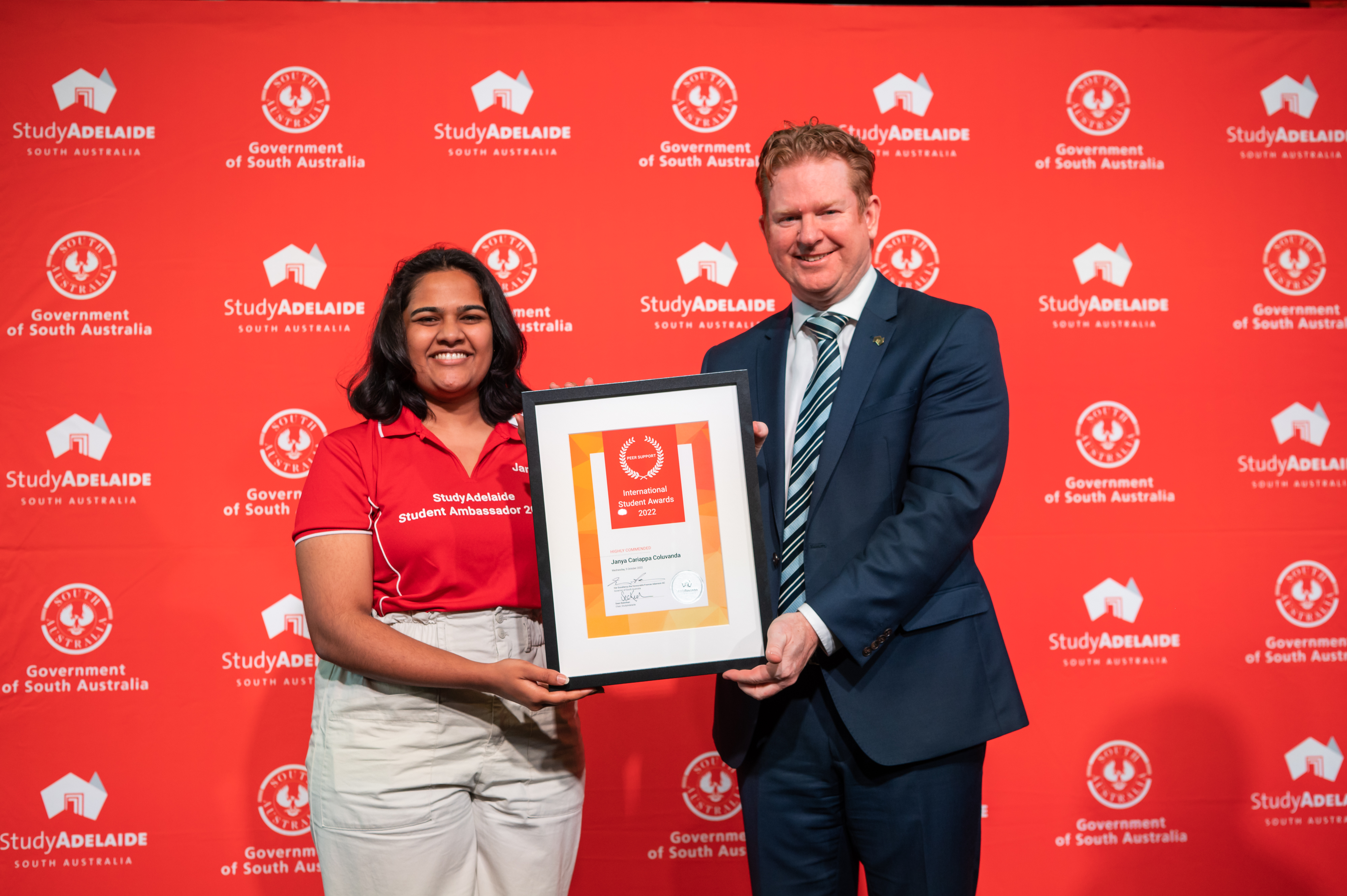 ---
Student Event/Initiative of the Year
When international borders closed during the COVID-19 lockdowns, many international students had to start or continue their studies offshore from their home countries. While it was wonderful to see so many still able to participate their Adelaide studies, being offshore meant they missed out on the social and lifestyle benefits of studying abroad. A group of students from the University of South Australia decided to change that with ChatBox, a social club custom made for offshore international students.
Winner: ChatBox
Supporting organisation: University of South Australia Student Association (USASA)
Ask any international student and they'll tell you how important interaction with peers is to their social and academic success and wellbeing, especially in the early days of their studies in Adelaide.
During the border closures there were several initiatives for offshore students run by educational institutions and StudyAdelaide, but one group of students felt there was a need for a student-run club. That's why they started ChatBox, an online social club connecting offshore students with each other, with onshore students and with Adelaide itself.
To engage their audience, the ChatBox team used Discord, Instagram, Facebook, and emails, and hosted online events for their members such as movie nights and game nights. During the peak of the border closures, ChatBox grew to have around 300 members. And the impressive executive team worked hard to achieve the ChatBox mission.
Now borders have reopened, ChatBox is transitioning to an in-person club and continues to function as an information-sharing hub for international students, especially in relation to the ongoing changes to travel requirements.
Born out of unprecedented times, ChatBox is a shining example of how international students are dedicated to helping their peers and make all feel welcome, even if when we couldn't all be together in Adelaide as one.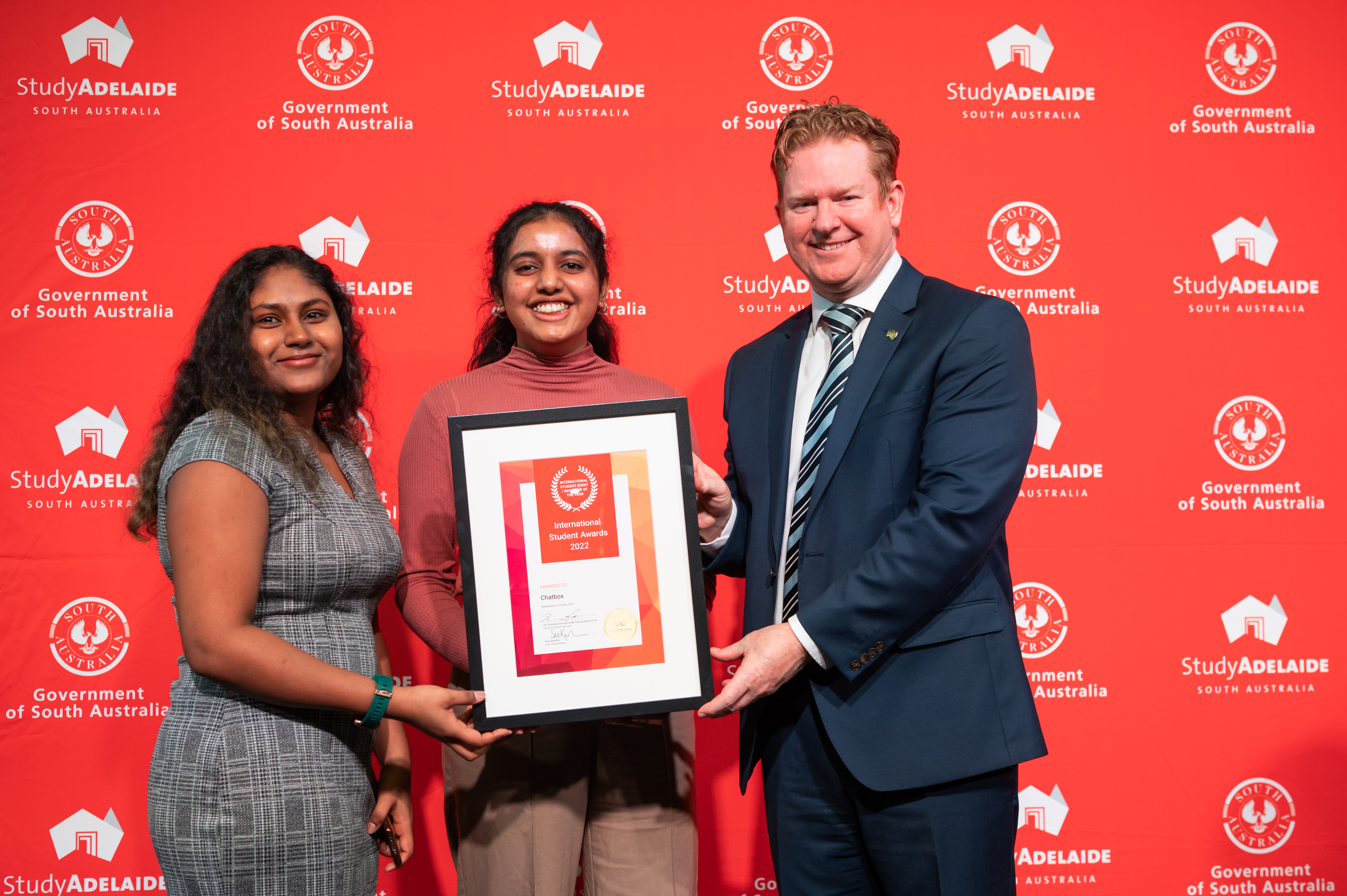 Employer of the Year
For international students, the opportunity to start a rewarding career in a supportive workplace is invaluable to their confidence, growth, and future success. This year, we're proud to announce our inaugural Employer of the Year Award and celebrate one employer who exemplifies the opportunities and values we want to see from organisations employing Adelaide's international students.
Winner: Visy Glass
Nominated by: Eril Levana from Flinders University
When Eril joined the team at Visy Glass as a 19-year-old undergraduate intern, he was welcomed into the team. As an IT engineer, Eril helps employees with their day-to-day IT problems and the role is helping him build a strong foundation for his career in information technology.
After completing his internship, Eril happily stayed on with Visy Glass, working part-time while be completed his final year of study. He says the team at Visy Glass made sure his shifts worked around his study timetable and gave him time off during busy study times to make sure he could dedicate the energy he needed to his degree. Eril says he felt supported by his manager and was grateful for the flexibility they offered him.
Through his time with Visy Glass, Eril has built his skills, moving on to harder tasks as his experience grew. He was also given the opportunity to represent fellow IT engineers with a presentation to the Visy Board of Directors and given training to help his career development.
Eril says Visy Glass offers a diverse workplace, and he is glad to be part of an open-minded team who like to share cultures through food, hobbies and traditions. His experience has shown our judges Visy Glass is an employer that values people and strives to create an enjoyable and diverse work environment for all employees.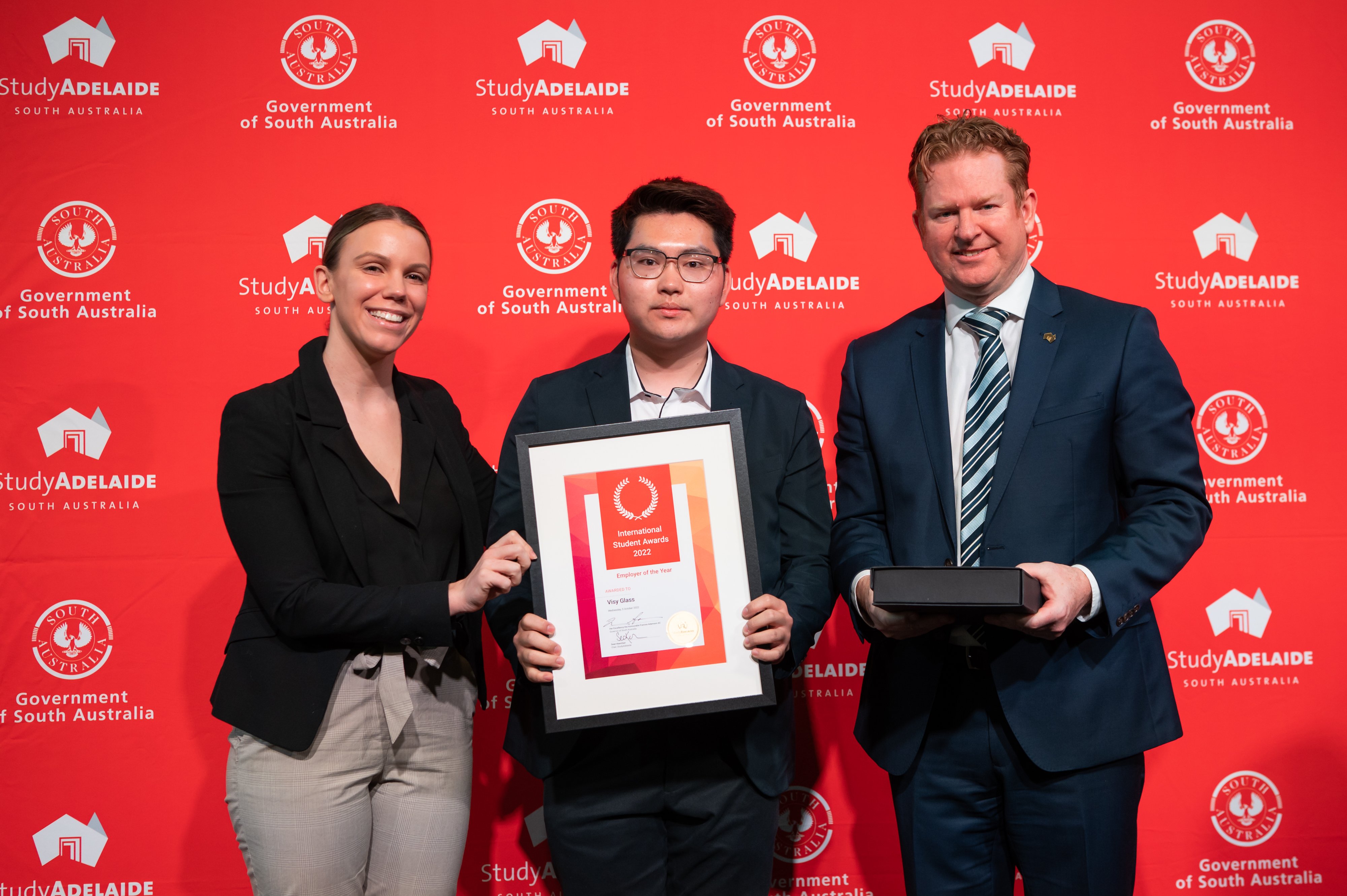 Rising Star Award
Rising Star: Dr Pei Qin (Sabrina) Ng from Malaysia
Graduate of: University of Adelaide
Studied: Bachelor of Science (Advanced) and Doctor of Philosophy (PhD)
After majoring in genetics and biochemistry in her undergraduate studies, Sabrina was fast-tracked into the MPhil-PhD program, allowing her to skip honours and masters and move straight into her PhD. After finishing her PhD, Sabrina was awarded a prestigious fellowship by the Freiburg Rising Star Academy which connects talented early-career researchers with top international scientists.
As the only Malaysian and Australian researcher selected to participate as a residence research fellow at the Max Planck Institute of Immunobiology and Epigenetics, Sabrina is establishing long-term research collaborations between Germany and Australia.
As well as her tremendous success as an international research fellow, Sabrina works as a Bioinformatician at the South Australian Health and Medical Research Institute (SAHMRI). In this work, Sabrina produces ways to analyse large datasets and has successfully identified potential biomarkers of neurological pain for diabetic patients.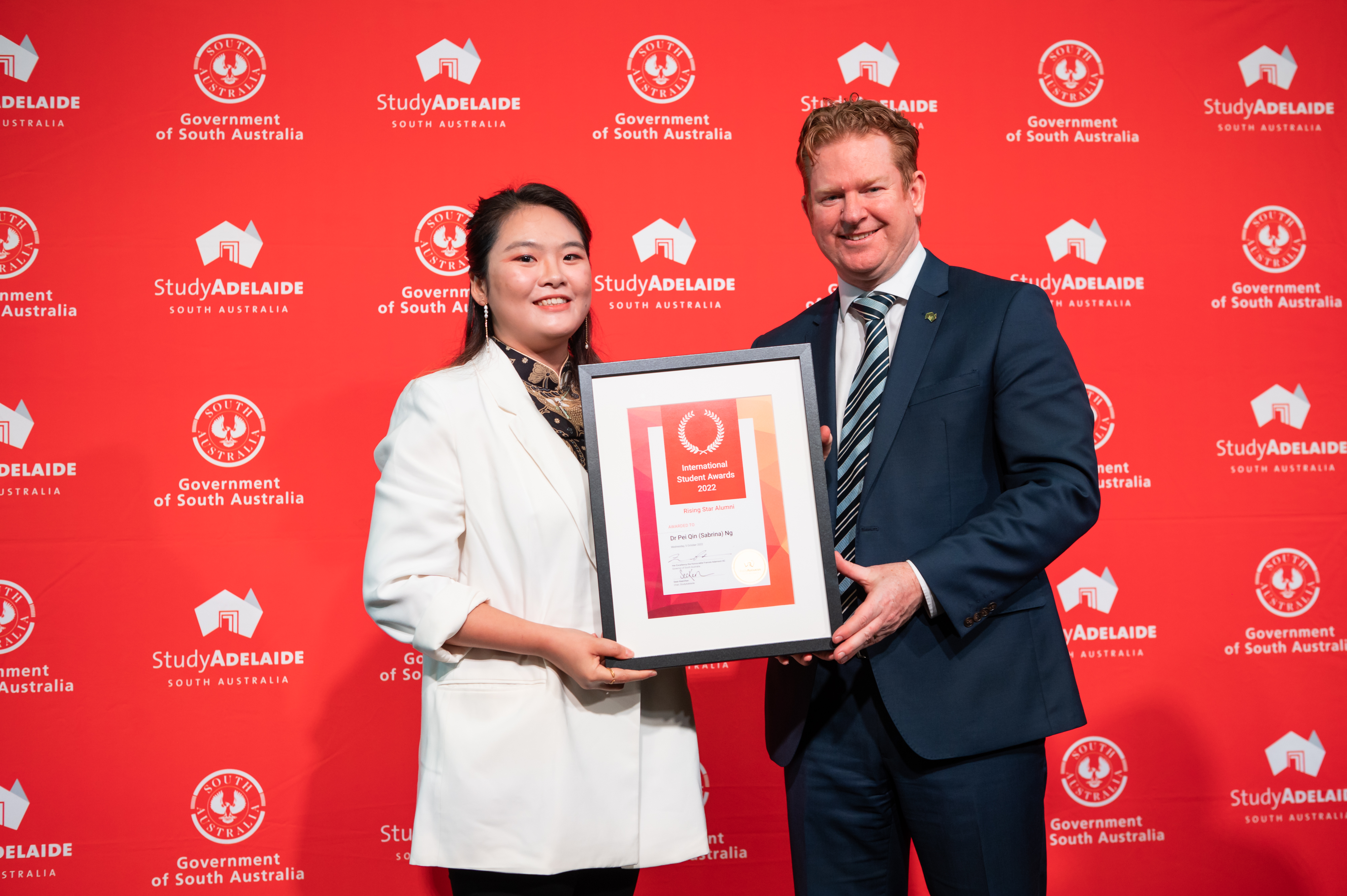 Rising Star: Leonard James Banda from Zambia
Graduate of: Flinders University
Studied: Master of Disability Policy and Practice
After returning home to his job at Chipata Central Hospital in Zambia, Leonard was immediately promoted to hold two senior positions. He is now responsible for the quality of physiotherapy services in his region, and for managing the day-to-day affairs of the hospital's physiotherapy department.
Having studied at Flinders University so he could enhance the quality of rehabilitation services for people living with disabilities, Leonard's says his education in Adelaide helped him get support for a new community-based program.
Since starting in April, the program has provided rehabilitation care to more than 400 people. With rehabilitation assistants and rural health workers now able to help people in their homes and local communities, the program is cutting the cost of bringing clients to hospital and reducing the number of people who drop out of care altogether.
Leonard came to Adelaide with a goal, and since graduating he's made significant strides to help people living with disabilities in a practical and profound way.
View all News