Adelaide is known as the 20 minute city - it only takes 20 minutes to walk, cycle or travel anywhere!
Almost 4,000 students choose to live in and around the Adelaide city centre. With most campuses located in the city, you'll find it easy to get to and from your classes by walking, riding your bike or catching the free inner-city tram or bus. International students get access to the same extensive discounts on public transport as local students.
---
Public Transport
It is easy to get around the city and suburbs with Adelaide's public transport system - Adelaide Metro. It's safe and includes:
The best and most affordable way to use Adelaide's public transport system is to use a MetroCARD which you can recharge online, or at a variety of shops. Learn more about Adelaide's public transport.
*Students who have a valid student ID from a CRICROS registered South Australian tertiary institution are eligible for a South Australian student card (concession card). Part-time students are not eligible for concession travel.
---
Walking and Cycling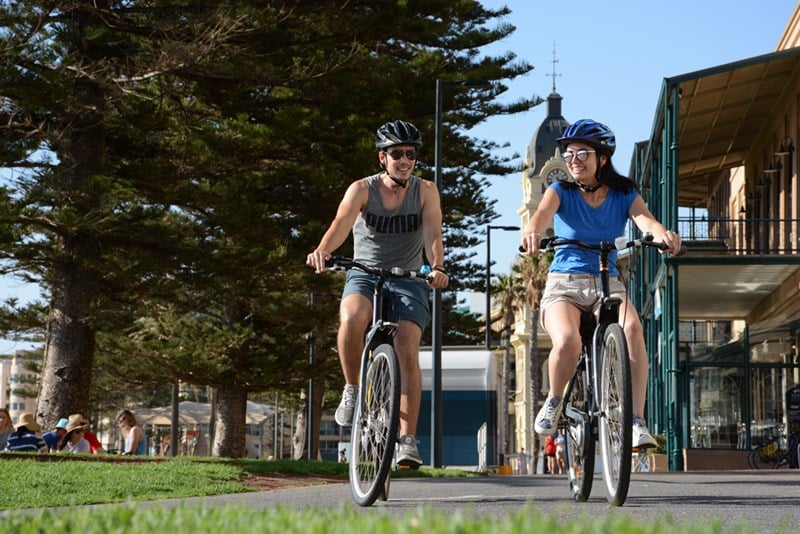 With broad, flat streets and extensive bike paths, cycling (and walking) around Adelaide is convenient and safe. When you explore Adelaide by bike, you'll enjoy:
Dedicated bike lanes on many city and suburban streets
Bike pumps and repair stations located in the city, which you can use for free
Plenty of free bicycle parking around the city
A network of bike paths weaving through the Adelaide Parklands and to many inner-city suburbs
You can also hire a free bike from Adelaide Free Bikes (including a bicycle helmet, which must be worn when you're cycling in South Australia).
E-Scooters
Currently you'll find 2 brands of e-scooters coasting around Adelaide: Beam e-scooters and based RIDE e-scooters.
Scooters can be found and unlocked through each company's smartphone app. Before you hop on, you'll need to confirm that you're 18 years or older (RIDE also requires photo ID). You'll then need to agree to terms and conditions and enter your credit card details.
Both companies charge an unlocking fee, and from there it's a pay-per-minute model – RIDE costs 25 cents, while Beam costs 30 cents. Conveniently, both companies have a pre-pay option.
---
Driving
If you live far from the city, you could get around Adelaide by driving. Whether you buy a car for permanent use or rent a car for the occasional road trip, you'll need to familiarise yourself with South Australian road rules.
In most cases, you can use your driver's licence from your home country to drive in South Australia. However, you'll have to make sure you have it with you whenever you drive, and it must be valid. Learn more about road rules in South Australia