News
What new jobs has the government added to South Australia's skilled occupation list?
There are more than 30 new eligible occupations, mostly from medical or technical fields. Some examples of occupations now eligible for offshore applicants include:
Medical
Medical Diagnostic Radiographer
Occupational Therapist
Physiotherapist
Audiologist
Speech Pathologist
Technical
Panelbeater
Automotive Electrician
Motor Mechanic
Diesel Motor Mechanic
Bricklayer
While the list of new offshore opportunities is limited to mostly medical and technical occupations, we hope to see more opportunities for offshore applicants added to the list in the future.
South Australia's skilled occupation list is a list of jobs eligible for state-nominated skilled visas. The list includes occupations where we have skills shortages in South Australia. To see the opportunities for your occupation, check South Australia's skilled occupation list.


What requirements do I need to apply for an offshore state nomination for an Australian visa?
Offshore applicants have to meet whichever requirements are relevant to their specific occupation. The requirements can differ between occupations.
For most occupations, you'll need to have at least:
Skills migration assessment from an approved authority for your occupation
IELTS English language score of at least 6, or equivalent
Minimum 65 points on your SkillSelect expression of interest (EOI)
At least 2 years of relevant work experience
Some occupations will require higher levels than this.

How do I find out what the requirements are for my occupation?
To find out what requirements you need to meet for your occupation, check South Australia's skilled occupation list.
On the page, you can search for your occupation to find out details, including:
Whether the occupation is open to offshore, foreign applicants
English language requirements
Minimum EOI score
Types of visas you can apply for
Work experience requirements
Figures 1 and 2: Sample of skilled occupation details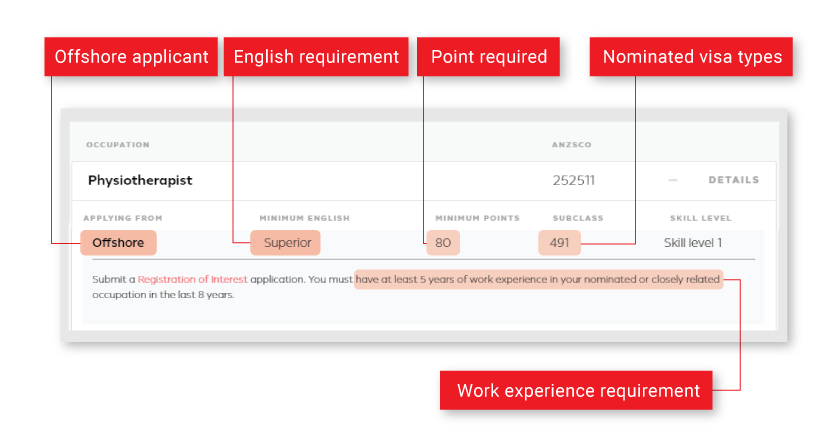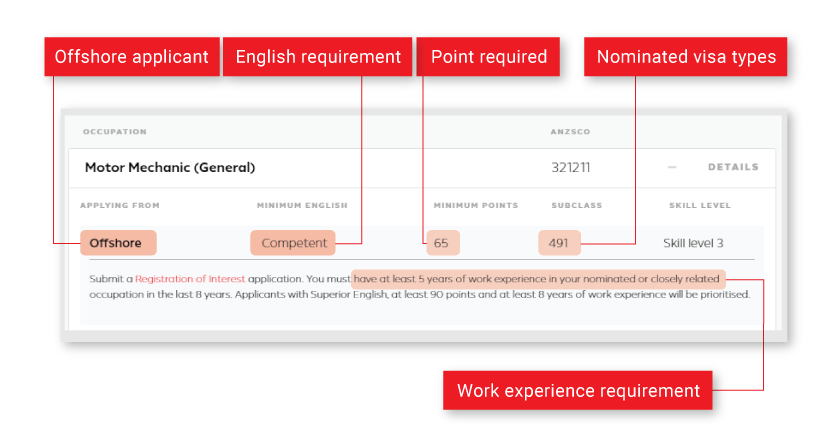 What does this mean for international students and graduates?
These changes give eligible offshore graduates an opportunity to apply for a visa via South Australia's state nomination.
While this offshore opportunity is only open to some medical and technical jobs so far, the government continues to evaluate the jobs list. And we hope we'll see more occupations on this list in the future.
How do I apply for a nominated skilled migration visa with a nomination from the Government of South Australia?
To apply for a South Australian state-nominated skilled migration visa, you must meet the Department of Home Affairs eligibility, and then follow these steps:
Step 1:
Step 2:
Step 3:
If you're successful, you'll get a state government nomination and an invitation from the Australian Government to apply for your visa. You must apply within 60 days of getting your invitation.
What if I'm an international graduate who lives in South Australia, not offshore?
If you're an international graduate still living in South Australia, you might be able to apply for a state-nominated skilled migration visa via our domestic pathways:
Learn more about our migration pathways for South Australian-based international graduates.

StudyAdelaide welcomes these changes which have opened up new opportunities for offshore graduates in certain occupations. We look forward to further updates from the state government as they continue to evaluate the skilled occupations list, and we hope to see opportunities for more offshore applicants in the future.
---
Data and policies are accurate as of 25 August 2021.
The information in this article is a general overview only. Check South Australia's Skilled & Business Migration website for the most detailed and up-to-date information.
---
Want to know more about skilled migration in South Australia? Check out the other articles in our series:
View all News