News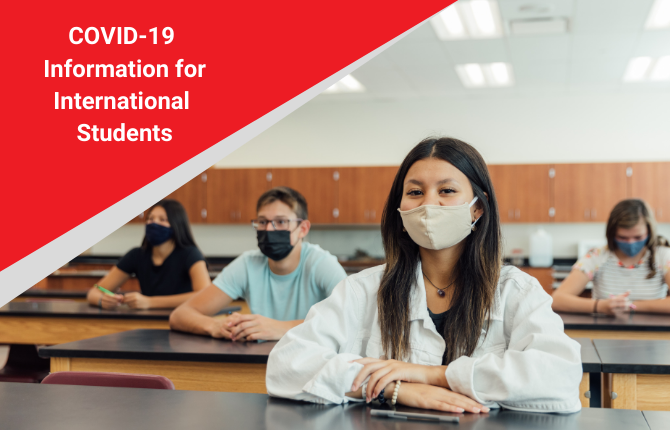 Welcome to our COVID-19 information page for international students.
StudyAdelaide will be updating the information provided on these pages on a regular basis to help you stay informed, safe, and supported throughout the global pandemic.
---
Current SA Health Direction
Updated 11 August 2021
Please refer to the SA Health website for the current COVID-19 Direction, including the full list of restrictions on activities.

Mask Requirements in South Australia
Please click on the image below for the full details regarding the wearing of face masks.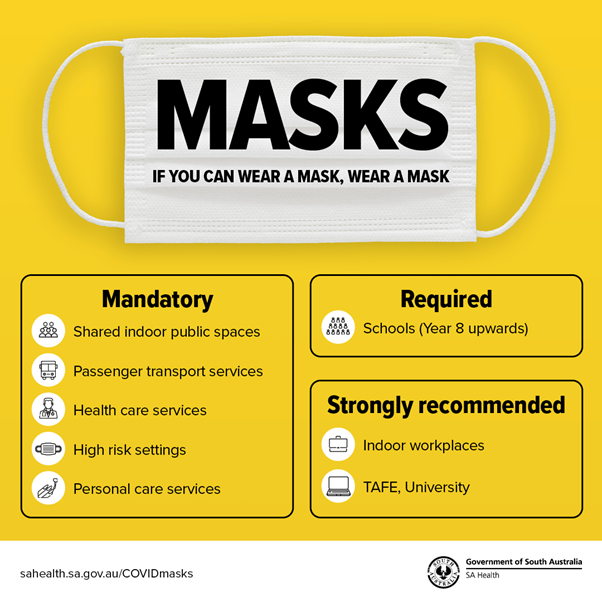 ---
COVID-19 and Your Wellbeing


As the global pandemic continues to impact all of us in different ways, taking time for self-care is really important, especially when you are a student. Taking just a few minutes each day for yourself can help reduce anxiety, stress, loneliness and boost your wellbeing.
Simple measures like exercising daily, eating a healthy diet, getting enough sleep, and spending time with others can help us maintain a healthy emotional state, but there are times when this is not enough, and we need extra support.
If you are feeling anxious, depressed or not quite yourself, know that you are not alone, it happens to a lot of us at some point in our lives, and help is available.
---
Watch the journey stories of Taeyoung and Khushboo, where they share the challenges they faced as international students and the strategies they learned to cope with the circumstances.
Get some support
If you have tried consistently to improve your mental health and still aren't functioning at your best, then it's important to find out what's going on and how you can manage it. Sometimes just talking to someone can help you feel better.
As a first step, you may want to talk to someone in your university or school; your institution will offer you support or guide you in the right direction.
Your GP (General Practitioner) can also set you up with a self-care plan that will help you to access counselling or visit a psychologist. Remember that it's okay to get the support you need.
A number of organisations in South Australia offer free and confidential mental health support services to international students regardless of your age, gender, ethnicity, sexual orientation, or religion.
Trained crisis supporters are ready to listen, support, and help you work through what's on your mind. Services are confidential and all you need to access them is your student card.
Relationships Australia
ASK PEACE is a free virtual service for people of culturally and linguistically diverse backgrounds, and if you are not confident speaking English, they can get an interpreter on the line to help understand your issues and concerns.
Call 08 8245 8110
Visit https://www.rasa.org.au/services/all-services/askpeace/


Headspace
eHeadspace is a Headspace initiative offering free online and telephone support and counselling to young people aged 12 – 25 and their families and friends. If you're going through a tough time, you can call them, join a group chat, or access helpful online resources.
Call 1800 063 267
Visit https://headspace.org.au/eheadspace/


Beyond Blue
Beyond Blue has trained counsellors available 24 hours a day, 7 days a week. Visit their website, chat online or call them for advice and support based on your specific needs.
Call 1300 22 4636
Visit https://www.beyondblue.org.au/


Lifeline
Lifeline also provides advice and support around the clock. You can text or chat online with a counsellor or speak to someone in person.
Call 13 11 14
Visit https://www.lifeline.org.au/
---
COVID-19 Health Advice


COVID-19 Symptoms
If you have any of the symptoms below, even if mild, you need to get tested for COVID-19 as soon as symptoms appear:
Fever or chills

Cough

Sore throat

Runny nose

Shortness of breath

Loss of taste or smell

Diarrhea and vomiting
Call 000 (Triple Zero) in an emergency, such as difficulty breathing or chest pain.


What to Do if You're Feeling Unwell
If you experience any of the symptoms listed above, you are required to self-isolate and seek testing for COVID-19. Call your doctor to book a test.
A COVID-19 test is free of charge. If your doctor cannot administer the test, they will refer you to a testing clinic.
It is very important that you stay home and call the doctor before you visit the doctor's practice, and be sure to describe your symptoms and travel history when you call.
Click here to view the SA Health chart to show exactly what to do if you feel unwell.
Please refer to your institutions' list of medical providers or contact SA Health or their info line 1800 253 787 for expert health advice.
To find a doctor close to where you are living, visit the Find a Health Service tool by Health Direct.
Should you require translating assistance when seeking medical advice please call TIS – Translating and Interpreting Service on 13 14 50.
Contact your OSHC provider to understand the level of cover provided by your policy in case you need medical services or treatment.
Self-isolation and Self-quarantine Advice
Certain people are required to self-isolate or self-quarantine for 14 days either at home or in a hotel. For example, anyone that has been in close contact with someone with COVID-19 in the past 14 days, or if you are awaiting a COVID-19 test result.

There are strict guidelines for self-isolation/self-quarantine and we know there are questions around what it means.
What do the Terms Self-isolation and Self-quarantine Mean?
Isolation / Self-isolation: When a person has been diagnosed with COVID-19 or is suspected of having COVID-19 (and doesn't need to be in hospital), including a person who is waiting for test results, they must stay in self-isolation.

Quarantine / Self-quarantine: When a person is not sick but is required to stay away from others due to a risk of exposure to COVID-19, such as being determined by SA Health to be a close contact or a person returning from overseas travel, they must stay in self-quarantine.

Take a look at our videos to help understand what you can and can't do:
How to self-isolate? – Living with other people
How to self-isolate? – Getting food and medicines
To understand the full requirements of self-isolation/self-quarantine see the SA Health Fact Sheet.
If you need support while in self-isolation or self-quarantine (for example, you are unable to get your own groceries or medications) please phone SA Health on +61 8 8425 9200 and select Option 3.
---
Financial Support for Accommodation
The South Australian Government has endorsed initiatives aimed at helping landlords and tenants whose incomes have been affected by COVID-19. The measures apply to residential tenancies, rooming houses, and residential parks.
These initiatives can be expected to be in place until 1 September 2021, or 28 days after all relevant declarations relating to COVID-19 have ceased - whichever comes first.
The measures aim to:
Institute a short-term moratorium on eviction for non-payment of rent due to severe rental distress as a result of COVID-19
Prevent landlords from increasing rent, where the tenant is suffering financial hardship due to COVID-19
Extend the tenant's ability to arrange to have repairs carried out by agreement with the landlord
Provide general protection for tenants who breach their agreement as a result of complying with a direction under law relating to COVID-19.

Visit the Consumer and Business Services (CBS) website or call 131 882 for more information.
The International Student Support Network (ISSN) homestay program might be another option for accommodation.
ISSN homestay was designed to be a short-term accommodation option for international students to have some comfort and support while making it through the COVID-19 crisis. The standard homestay period is 4 weeks, although in special circumstances a shorter length of stay may be requested by your education provider. The good news is you and your host have the option of extending by mutual agreement.
The arrangement includes a private room, three meals a day, the use of a shared laundry and bathroom, internet access, and support from your host family.
Your education provider will need to confirm your eligibility. Once you have contacted them and they have referred you to ISSN, you can apply for placement by registering here.
---
COVID-19 Vaccinations for International Students
All South Australians aged 12 and over can now book a COVID-19 vaccination, including international students. COVID-19 vaccinations are free for everyone in Australia when dispensed from a state-run vaccine clinic.
The Pfizer COVID-19 vaccine is available for people aged 12 and over, the Moderna COVID-19 vaccine is available for people aged 12 and over at selected pharmacies and the AstraZeneca vaccine is available for people aged 18 and over.
To find out where the state-run vaccination clinics are located, and to book your appointment, follow this link to SA Health.
Getting vaccinated protects you against the serious effects of COVID-19 and means you are less likely to pass it on to others. While voluntary, vaccination is an important public health measure, helping to provide us with a path out of COVID-19. Everyone is encouraged to get vaccinated to help protect the community.
If you need more information, SA Health has translated information about COVID-19 vaccines into multiple languages. Find information in your language here, or call the COVID-19 vaccine helpline on 1800 020 080, or for translating and interpreting services call 13 14 50.
Vaccination FAQ Webinar with Professor Spurrier
On Wednesday the 1st of September we were joined by Professor Nicola Spurrier, Chief Public Health Officer of South Australia. She answered questions about the vaccination rollout for international students. You can watch a recording of the webinar below.
The information in this video is correct at the time of recording on 1 September 2021.
---
Temporary relaxation of working hours for student visa holders
The Department of Home Affairs and Australian Border Force will take a flexible approach to student visa holders, including those working beyond their usual work limitations, but only in the sectors below.
You can work for more than 40 hours a fortnight if you are employed:
By an aged care Approved Provider or Commonwealth-funded aged care service provider with a RACS ID or a NAPS ID, before 8 September 2020
By a registered National Disability Insurance Scheme provider
Enrolled in a healthcare-related course and you are supporting the health effort against COVID-19, as directed by health officials
In the agriculture sector
In the tourism and hospitality sector
More information is available on the Department of Home Affairs website.
---
Travel and Visas
Overseas travel restrictions remain in place. The Australian Government's Department of Home Affairs provides the latest information about travel restrictions and visas.
For further information please refer to the Department of Home Affairs website.
Getting to Adelaide from interstate
If you are moving to Adelaide from interstate to continue your studies, learn more about the requirements to relocate.
All travellers coming to South Australia must complete the Cross Border Travel Registration form on the SA Police website at least 7 days before you leave, regardless of where your travel begins.
As travel restriction advice is constantly changing, we suggest you keep up to date here .
---
Further Assistance
Please contact StudyAdelaide or your institution if you require advice.
We recommend you keep up-to-date with the latest information through your institution and the studyinaustralia.gov.au website.
We also recommend that you download the South Australian Government's free mySA GOV app which enables you to use the COVID Safe Check-In feature.
If someone in South Australia tests positive to COVID-19, the COVID Safe Check-In enables SA Health to quickly contact others who may have been exposed to the virus and stop the spread of COVID-19.
View all News