News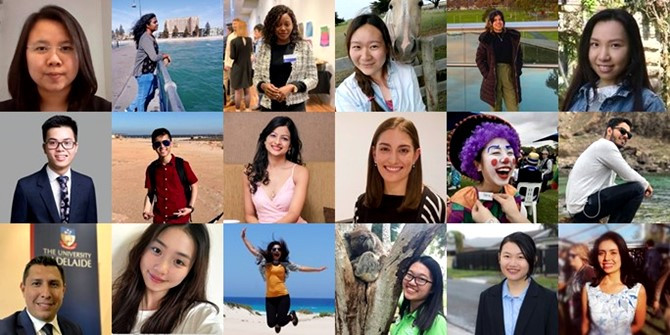 StudyAdelaide's mentors are here to help make your transition to Adelaide as smooth as possible. If you've recently received a Confirmation of Enrolment (CoE) to study in Adelaide, register today to be connected with a local buddy.
Meet the 2020 StudyAdelaide Student Ambassador team! Their role is to help you get the most from your Adelaide experience. Some day soon there will be opportunities to meet these passionate people in person. In the meantime, catch up with them online when they play host at our upcoming virtual events, including Friends of the World.
Read on to learn more about where they're from, what they're studying, and the special 'Adelaide' advice they'd like to share.
Amy
Bachelor of Marketing and Communications graduate
Australia

Enjoy meeting new people and help ease students' transition into life in Adelaide.



I love the lifestyle I'm able to live in Adelaide as it's a fun place with lots of attractions in and outside of the city. I also enjoy doing yoga, going to the beach, playing tennis and exploring different events in Adelaide.

---

Ashley
Master of Social Work graduate
China

Loves swimming, hiking and rock climbing.

I have studied in four different countries - China, United States of America, South Korea and Australia, and recently completed my Master of Social Work degree!

---

Basim
Masters in Finance and Business Economics
India

Always ready to help and make new connections everyday.

I am a footballer and a religious Manchester United Fan. I love trying new food at new places.

---

Didier
Master in Wine Businesss
Mexico

Enjoys meeting people from different countries as well as locals who are always keen and happy to help!

During my free time, I enjoy riding my bicycle and discovering the many bike routes around the city, the beach and Adelaide Hills. I also enjoy the hiking options available like Mount Lofty and Morialta Falls. As international students, we all face similar challenges. Supporting each other and providing advice is the best way to thrive in this experience as a foreign student.




---




Elma
Bachelor of Law
China

Big adventurer and love taking new challenges in life.

I have a lot of hobbies such as ice-skating, volleyball, singing and writing fiction. I am a big cat slave as well (I love dogs, but cats come first for me). I'm always inspired when getting to know new people and listen to them talk about their life experiences and passions.

---

Jakia
Bachelor of Software Development graduate
Bangladesh

Adelaide is a very peaceful city

The thing I like most about Adelaide is the cheaper living cost than any other city in Australia! I am a huge cricket fan. I love painting, music, cooking, exploring Adelaide and spending time with friends. Also, I LOVE the festivals of Adelaide like FOMO, Royal Adelaide Show and Adelaide Fringe Festival.




---

Jayee
Bachelor of Psychological Science graduate
Malaysia

Adelaide is such a vibrant city!

I joined the Mentor Program after living in Adelaide for 3 years and wanted to use this opportunity to share my experiences with new international students, to welcome them to this beautiful city. I look forward to meeting you here in Adelaide :)

---

Jency
Bachelor of Mathematical Sciences (Advanced)
China

Adelaide is a place that guides you through your wildest imagination and unlimited possibilities, and I want to pass this on to the future students coming here to chase their dreams!

---

Karen
Masters of Financial Planning
Colombia

Adelaide has enchanted me with its vivid parklands full of birds and marsupials!

One of my hobbies is mountain biking and I thought Adelaide would be a pretty flat terrain and lacking bike trails, but guess what? I've found so many places to have fun with my bike! Cleland National Park is one of my favorites so far, with its steep hills and beautiful landscapes filled with lovely animals and challenging trails. I love meeting new people from all around the world, diversity of cultures enriches my knowledge.




---

Lynn
Bachelor of Mathematical and Computer Science
Malaysia

One of my hobbies is walking and Adelaide is a great place to walk around with its many parks and beaches that you can get to by bus! It is great to take some time off and visit a few places during the weekends to relax and recharge.

---

Mogona
Master of Biotechnology (Biomedical)
India

I have been in Adelaide for more than a year now and I love this place!

This is my first international travel experience and I thought I would feel homesick for a very long time but this city is so welcoming - I made new friends very soon and did not feel homesick for long. I have been involved in a range of volunteering activities in Adelaide which has taught me so many things about Australians and their culture.

---

Olamide
Human Resource Management
Nigeria

Adelaide provides a sense of community and feels like a home away from home.

I love discovering new restaurants, reading thriller novels, and travelling. Besides the ease of movement, my favourite thing about Adelaide is the festivals - it is noted for many festivals and sporting events.

---

Rui
Master of Social Work
China

This is my third year in Adelaide and I love all the festivals and markets here. I'm looking forward to meeting new international student mentees and having some fun together!

---

Sana
Bachelor of Psychological Science
India

I love Adelaide because the people here are so friendly and the city is very laid back, pretty and calming.

People enjoy their lives here and are grateful for what they have. In my free time I enjoy doodling and painting. I also love dancing in front of the mirror when no one is around! I am a very quirky and outgoing person who is also up to grab an ice cream from 48 Flavours or some churros from San Churros.




---

Sharon
Master of Teaching
Hong Kong SAR

Adelaide values every student with different interests and strengths.

---

Son Dong
Bachelor of Business (International Business)
Vietnam

Adelaide has so much to offer to international students both in terms of ongoing support with programs like this, as well as the opportunity to enter the workforce after graduation.

---

Steven
Master of Electrical Engineering
China

Participating in volunteer work and outdoor activities are good ways to meet new people in Adelaide and to enjoy the beauty of nature that is all around us.

---
Terry
Bachelor of Health and Medical Sciences
Malaysia

As a beach lover, the beaches here are mesmehrising and astonishing

I love studying in Adelaide and I've had so many amazing experiences here. One of my best experiences is trying so many different kinds of amazing food, especially the meat pies and local fish and chips. Going out exploring and visiting new places has always been my passion. Ever since I was young, I have always thought of what it is like to live or explore on the other side of the world.

---




Thira
Social Work
Sri Lanka

Moving into Adelaide was the best decision I made as a student.


Adelaide is indeed the "Festival State" and there are lots of amazing, unique and fun festivals and events throughout the year (Mad March, Footy Season and so much more)! These events are a great way to learn about the Aussie culture and have a remarkable time as a student here in Adelaide.






View all News